The first thing that people ask when they hear Bentley Balance Bike is, "Is that the same Bentley as…"
Well the answer is yes.
It is the same Bentley that gave you the Bentayga, Flying Spur, Mulliner and the Continental.
Bentley released their balance bike back in April 2021 and caused quite a stir amongst cyclists, parents, kids and the media alike.
Possibly the price of $495 raised many eyebrows, but that is only part of the story.
Is the Bentley baby bike any better than other balance bikes out there?
The answer is almost certainly yes.
I will go into the tech bits later but close inspection of this bike shows the pedigree of engineering, style, and finish that is synonymous with one of the world's most prestigious marques. It is quite simply stunning.
Features such as the knurled seat and quilted handlebars are designed not only to give a luxury finish but also to improve comfort and security to its young rider, to give him or her the confidence to master the skill of riding.
Inspiration for the Bentley Balance Bike
The Bentley Balance Bike is the latest edition to the Bentley collection of accessories that range from kids' sofas to Teddy Bears, the bike itself is designed along the power line of the Bentley vehicles and can be seen in the design of the frame which draws its influence from the iconic Bentley Continental GT.
Specifications
The core of the Bentley Balance Bike is the frame, made from a magnesium alloy that weighs a remarkable 650gms. but can support a child of up to 35kgs. 
The 12" tires are air-filled rubber with a deep crosshatch tread that can cope with any surface your kid rides on.
The handlebars are Bentley diamond quilted for comfort and grip and the knurled seat is in itself a masterpiece of manufacturing skill. 
The bike comes with a rear aluminum disc brake.
Available in four colors and with the Bentley name and badge prominently displayed on the frame.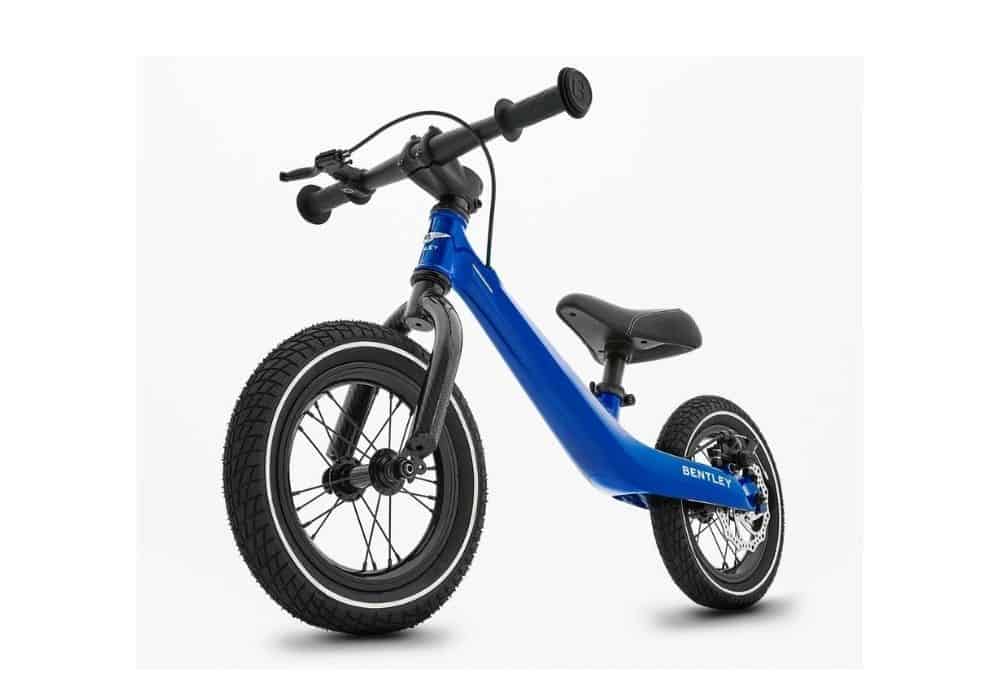 What we like
Brilliantly engineered
Superb finish
Rear brake is a great addition
It's a Bentley
What we don't like
Our Verdict
The Bentley Balance bike is quite simply a wonderful piece of engineering, each component being meticulously designed, manufactured, and assembled. 
The attention to detail is quite remarkable and the materials used throughout the balance bike are of the very highest order.
The price may not be as high as you may think considering that this bike suits kids from 18 months to 7 years old, so could it be in the same hands for five years?
(Plus using the code INSPIRED25 will give you 25% off the price)
Then considering the residual value on Bentley items you could be looking at a very reasonably priced bike.
And it's a Bentley