The 10 Best Bike Phone Mounts 2020
Where do you carry your phone when cycling?
Sure, pants pockets or backpack can work just fine until you want to record a ride or take a selfie.
You may need to stop the bike, reach for your phone, resume riding with one hand while holding the phone with the other hand.
If you aren't an experienced rider, you'll most likely fall.
You might damage your bike and phone after the fall. Some surfaces are bumpy such that you need both hands on the bike handles.
And even if you're experienced enough to use one hand to record the ride, you won't do it for long and the videos or photos probably won't be crisp enough to upload on your Instagram feed and get a number of double tabs you can be proud of.
The solution?
The best bike phone mount possible.
Ride Along with Your Phone
Bike phone mounts come in different shapes and sizes; you just need to find one that suits your phone model and size.
The bike phone holder is then fastened securely on your bike's stem or handlebars. It may be waterproof or not.
Whether you use an iPhone or Android, you'll find the ideal bike phone mount for your needs. There are numerous bike phone holders on the market.
We cut through the noise and compiled a list of the 10 best ones for you.
 So, instead of spending hours researching the best bike phone mounts, you can sort your purchase, get out and explore those biking trails quicker.
Let's dive in.
Best Universal and Iphone Bike Phone Mount
Quad Lock Phone Mount Kit
This is our pick for the bike phone mount because it's easy to attach and detach and holds your phone securely on the bike.
The Quad Lock Mount is majorly designed for iPhone users and suits most iPhone versions, from iPhone 5 to X/Xs. However, it is available for a wide range of cell phones.
This mount comes with a patented dual-stage lock to secure your phone in place. The lock boosts your confidence over jumps and bumps, as you know your iPhone is securely tied to your bike.
The bike phone holder can be mounted to any handlebar or stem of up to 25 to 40 mm in tube diameter. This feature makes it compatible with many standard bikes.
The kit comes with the necessary zip ties and O-rings, making installation a child's play.
The Quad Lock iPhone Mount has a weather resistant poncho, which snaps on over the phone's front to help protect the phone from rain.
What's more, the easy twist and lock system allows you to easily access your phone on the go.
Specs
Dimensions: 7.28 x 1.97 x 4.13 inches
Weight: 5.3 ounces
Color: Black, blue, or grey
What We Like
Easy assembly
Quick and secure locking mechanism
Compatible with most handlebars and stems
Light and strong
Comes with a waterproof poncho, iPhone case, and mounting hardware
What We Don't Like
The phone mount may trap small rocks and sand between your phone and the case.
Summary
This is the best bike phone mount for a wide range of smartphones and is especially great if you have an iPhone. Once you secure it on your stem or handlebars, you can record your rides with accuracy.
Grefay Bike Phone Mount
This bike mount can work on most road bikes and phones. Anyone can install it on a bike handlebar.
The Grefay Bike Mount is sturdy and secure. The clamp has four support corners, which ensure your phone remains secured in place as you ride along rocky trails.
Installation is a snap. The tool-free installation makes mounting  to any bike handlebar effortless. You only need to locate the nut and lock it.
This bike phone mount is universally compatible. In other words, it works with Andoid phones, iPhones, and GPS devices measuring 3.5 to 6.5 inches wide.
Not only is the Grefay Mount compatible with different phone types, it's also compatible with an array of road bike types, including mountain bikes, electric scooters, and motorcycles with a diameter of between 22 and 32mm.
Specs
Weight: 130 grams
Suits smartphones of between 3.5 and 6.5-inch
Suitable for handlebars measuring 22 to 32mm in diameter
What We Like
Works with Android phones, iPhone, and other gadgets
Compatible with different bicycle types
Sturdy and secure
Tool-free installation and removal
The holder is adjustable to hold phones of varying sizes – between 3.5 and 6.5-inch
What We Don't Like
Some users have experienced loosening of the clamping bolt when riding in rough terrains. This doesn't happen often, though.
Summary
If you have different phones or bikes, you can use this best bike phone holder on all of them. Installation is super easy too.
Iphone Bike Mounts
Rokform Bike Phone Holder
This magnetic bike phone mount is tough enough to protect your phone if it drops, and easy to install on the phone.
Sometimes you are in a hurry and want to take the shortest time to mount a phone holder on your bike. That's where the Rokform bike phone mount comes in handy. Its magnet allows instant mounting anywhere, allowing you time to enjoy you rides and record them.
But that's not all; although the mount uses a magnet, this isn't the type that damages a phone or credit card.
This bike mount is drop-tested to six feet, which is why you shouldn't worry about accidentally dropping a smartphone while navigating those bumpy trails.
The Rokform case is made of dual-compound materials – an impact-resistant core and a tough polycarbonate exterior shell. This does not only add sturdiness to the mount, but also durability.
Specs
Dimensions: 8.13 x 1.14 x 16.26 cm
Weight: 72.57 Grams
Color: Black
Style: Rugged
What We Like
A magnet saves time when mounting the case
Drop-tested so no worries about drops and shocks
Consists of dual-compound material for sturdiness
 What We Don't Like
Often, the magnet can hinder wireless charging. You need remove the magnet using the RockLock Adapter to allow for wireless charging.
Summary
Looking for the best bike phone mount with a magnet? The Rockform Twist Lock Mount won't disappoint.
Best Iphone 6/6S/7 Bike Phone Mount
Topeak Ridecase
Adjust your phone to any angle to record your ride and play music while riding.
As a biker who can't complete a ride without recording it, you need the best bike phone mount for both landscape and portrait viewing. That's precisely what the Topeak iPhone Mount can help you do.
Playing your favorite music while riding makes the journey exciting, right?
This phone holder for bike works with or without an earphone jack. So, get your playlist along and enjoy the ride!
It's now possible to record the ride from different angles, thanks to the QuickClick system mount for handlebar or stem mounting. So, go ahead and capture the beautiful scenery along the road.
When riding, you want to focus on controlling the bike and navigating different sections of the road safely.
You don't want to keep worrying about the safety of your phone, which is where the RideCase comes into the picture. It has a plastic exoskeleton and a sleek carbon fiber to securely hold your phone on the go.
Specs
Color: Black
Style: Stand Case
Weight: 181 grams
Material: Plastic
Item display length: 4.5 inches
Height: 1.5 inch
What We Like
Integrated flip stand for portrait or landscape viewing
Plastic exoskeleton and carbon fiber to hold the iPhone securely
QuickClick system mount for angle adjustability
Can work with or without an earphone jack
The full angle adjustable mount makes it easy to mount or remove the bike phone holder
What We Don't Like
It's not waterproof, which can be a problem when riding through the rain.
Summary
Recording rides requires a bike phone holder that allows portrait and landscape orientations, and one that sits tightly on your stem and handle bar. That's what the Topeak RideCase Mount is all about.
Best Iphone 11 Bike Phone Mount
MORPHEUS LABS M4s iPhone 11 Pro Max Bike Mount
Super-slim, magnetic, and easy to install phone bike mount that works on almost all types of bikes.
Afraid of dropping your iPhone 11 when cycling across those rocky terrains? Not anymore; Morpheus Labs Bike Mount has a patented magnetic quick lock to securely hold the phone after you mount it. Besides, the sturdy Ultra-Lock prevents the accidental detachment of the lock.
No, you don't have to get late for a ride just because you're waiting for a friend or family member to mount the bike holder for you. You only need less than 10 seconds to mount this case on your handlebar. And you'll need about 3 seconds to attach and detach your iPhone case to the bike mount.
The bike mount comes with an adjustable bracket suitable for handlebars of between 22 mm and 32 mm in diameter. This feature makes it compatible with mountain bikes, city bikes, road bikes, electric bikes, exercise bikes, and jigging strollers.
Specs
Color: Black
Dimensions: 20.4 x 12.2 x 5.8 cm
Weight: 260 grams
What We Like
Locking parts consist of real steel material for durability
Easy to install
Magnetic quick lock secures the phone firmly
Adjustable brackets that work with a wide array of bike types
What We Don't Like
The bike phone mount doesn't support wireless charging
Summary
We highly recommend this best bike phone holder for its sturdiness, easy operation, and versatility.
Best Universal Bike Phone Mounts
Syosin Bike Phone Mount
Quickly detach this universal bike phone holder to take selfies, read emails, or take calls. It rotates at all angles and keeps a tight grip on your phone while cycling.
While most bike phone mounts can be assembled and disassembled, disassembling from the handlebar or stem takes time. The SYOSIN phone holder solves this problem; you don't have to disassemble the entire bike phone holder, as the phone holder is detachable. This feature also makes it easy to rotate the phone holder or take it from the bike for selfies, calls, or emails while biking.
The anti-slip pad on this bike phone holder secures the phone in place over bumps. Thus, you don't have to worry about the phone falling out during cycling.
The SYOSIN bike phone holder comes with an adjustable, 360-degree rotation design, allowing you to rotate and point it in all directions and viewing angles.
It's widely compatible, and fits well on the handlebar of a bike, treadmill, stroller, motorcycle, or even shopping cart. And speaking of compatibility, this universal bike phone mount fits a wide variety of phones sized 4 to 6.5 inches with or without a case. In other words, it works on both iPhone and Android phones.
Specs
Dimensions: 11.2 x 5.8 x 4.3 cm
Weight: 50 grams
What We Like
Easy to detach the phone from the holder
360-degree rotation design
Supports touch ID and face ID
Tool-free installation
Wide compatibility
Budget-friendly
What We Don't Like
It takes some getting used to, before confidently mounting the phone to go on rough trails.
Summary
If you're looking for a budget-friendly bike phone mount with the best features, such as 360-degree rotation and detachment, then the SYOSIN Universal phone holder is your pick.
Babacom Bike Phone Holder
When cycling, it's important to put your phone where you can view it from any angle, which makes it necessary to use a bike phone holder with 3600 rotation.
The Babacom Bike Phone Holder can be rotated at any angle (vertical, horizontal, diagonal), allowing you to see the maps of your trails, take selfies, or calls.
The bicycle phone holder is stable on bumpy trails. Average phone holders have a loose grip on the handlebars, which causes instability when riding on bumpy roads.
Babacom has improved on this weakness by creating an adjustable belt with a nut design and close thread to firmly lock the handlebars. This feature prevents any shake when riding on rocky paths.
The elastic rubber belt makes this bike phone mount compatible with any smartphone, from iPhone 11 Pro Max to Samsung Galaxy S20.
The Babacom bike phone holder can fit on the diameter of most handlers. So if you're using a bicycle, treadmill, wheelchair, scooter, or motorcycle, you can use the holder.
As you jump on bumpy surfaces, your smartphone might develop scratches or other mechanical problems due to strong shakes. But that shouldn't worry you when you've installed the Babacom holder on your bike – it absorbs all shocks.
Specs
Dimensions: 8 x 6 x 2 cm
Weight: 80 grams
Color: Black
What We Like
3600 rotational design
Stable on bumpy routes
Compatible with any smartphone
Fits most handlebars
Protective and secure
Budget-friendly
What We Don't Like
The rubber straps cover some parts of the screen, which makes it challenging to swipe and unlock an iPhone.
Summary
The Babacom bike phone holder is ideal for those on budget but in need of a sturdy, easy-to-install, freely rotating phone mount that fits most phones and handlebars.
Truactive Bike Phone Holder
When riding at full speed, the last thing you want is a smartphone holder that rattles and falls off the ground as a result of a weak grip between the phone holder and your handlebars.
TruActive's phone holder has a unique custom fitting with a powerful grip that wraps around the handlebars and a nonslip, anti-vibration padding to ensure your smartphone remains stable on rough trails.
Certain phone holders are made from cheap parts that can break off or fall apart with use. TruActive bike phone mount is made of durable rubber that's undergone thorough testing by engineers experienced in road safety.
Another reason why this is the best bike phone mount is that it's a universal fit compatible with any handlebar or phone size. It fits phones that range between 4.0 and 6.5 inches. If you have a bike or motorbike with a handlebar measuring 13.97mm to 32mm in diameter, you can use this phone mount.
Specs
Color: Blue, pink, black, orange, red, and fluorescent yellow
Material: rubber
Dimensions: 8 x 6 x 4cm
Weight: 240 grams
What We Like
Tool-free installation
Widely compatible with most phones and handlebars
Made of durable material
Advanced grip to prevent the phone from slipping off or scratching the handlebars
360-degree rotation
Clear display of your GPS, riding apps, music, and messages
What We Don't Like
Some users may find it a bit bulky.
Summary
If you're looking for the best bike phone mount that ticks all boxes, then go for the TrueActive Bike Phone Holder.
Whale Fall Waterproof Bike Phone Holder
Every rider has experienced it; you're busy cycling along your favorite trail then boom!
Sudden rain starts or you enter a misty zone with water droplets all over the place. That's when you need a splash-proof bike phone mount.
The Whale Fall phone holder is not only water-proof but also has a sun visor design to protect your eyes when it's sunny.
You can access all your phone functions without unmounting the pouch, thanks to the phone mount's sensitive touch screen.
Whale Fall's phone holder is among those that come with plenty of extra features. Not only can you carry various belongings while riding, you can also use the phone while cycling.
You can answer calls or listen to music while riding via the earphone hole. Besides, the 3600  rotation allows you to adjust the pouch at different angles for landscape or portrait viewing.
Specs
Shape: Reflective grey
Dimensions: 17.6 x 11 x 5.8 cm
Weight: 200 grams
What We Like
Sensitive touch screen
Fast installation
360-degree rotation
Water-proof
Compatible with most smartphones
Large capacity for carrying keys, wallet, sports gloves, and more
Budget-friendly
What We Don't Like
The plastic screen cover can break through in a small number of cases.
Summary
We highly recommend this unique smartphone holder because it has enough room to store small items. You can also use your phone while riding.
Powerole Bike Phone Holder
Some bike phone mounts are only designed for specific phone models, so if you buy a different phone, you may no longer use the mount. How about going for a universal phone holder that works with almost all phones and is price-friendly?
The Powerole bicycle phone mount is designed for any cell phone sized 6-inch and below whether iPhone 6S or Samsung Galaxy S6.
You don't need any tools to lock the holder into place. Instead, use paste straps to lock it and loosen the straps to remove it.
One of the reasons most bikers prefer this phone mount is because of its large capacity double zipper that can store tons of small items, including pen, wallet, keys, and repair tools.
Keeping your phone from dust, water, and dirt is critical for any rider. This bike phone mount is made from top-grade PVC, PU, and polyester material that's waterproof and wear-resisting. (But don't submerge it in water just to prove if it's waterproof!)
Specs
Color: Black
Size: Four feet
Type of material: Synthetic
Dimensions: 19 x 11 x 10 cm
Weight: 140 grams
What We Like
Sun visor design
Installation and removal is easy
Double zipper
Large capacity
Reflective strip
Sensitive touch screen
What We Don't Like
It's not fully waterproof as advertised. Moisture and light rain can still seep through.
Summary
Are you looking for the best bike phone mount that's big enough to carry a couple of items and still allow you to use your phone while riding?
Try the Powerole bike phone mount.
What is A Phone Bike Mount, and Why Would You Use It?
A bike phone mount is a gadget used by bikers to hold their phones intact when they're out cycling. The mount secures your phone on the bike while allowing you accessibility to the phone. It is an efficient device that comes with a lot of conveniences. You can mount it on your bike's stem or handlebars.
Sometimes while cycling, you may encounter dips and bumps on the road. Since smartphones are not designed with shatterproof capabilities, they can be damaged when you tip your bike. Bike phone mounts allow you to keep your phone secure and accessible when you're cycling.
It lets you access your phone screen without holding the phone in your hand.
With the phone holder, you can operate your phone hands-free as you enjoy your ride.  Having a bike phone mount attached to your bike is the most comfortable way to cycle without distractions.
A phone mount saves you a lot of hassle, making your ride safe without having to stop frequently to take it out of your pocket. It is useful, especially when it comes to using the phone's mapping features. You can use your phone to track or navigate when it's right before you, safely tucked in the mount.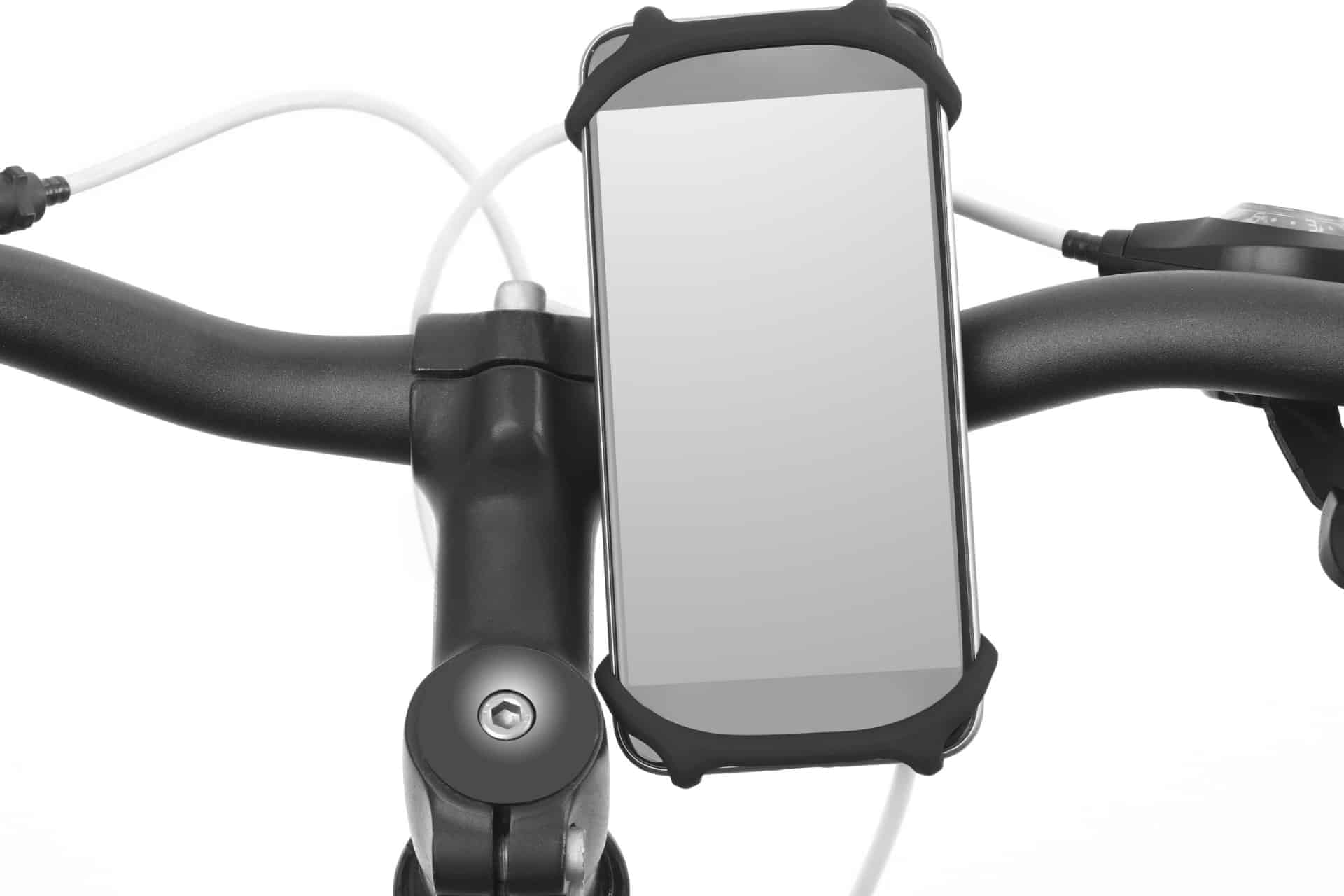 Different Types of Bike Phone Mounts
There are three types of bike phone mounts. The one you choose will depend on your smartphone model and the area on the bike you want it mounted. Each type has its own value, for example, brackets are convenient while cases are secure, and bags tend to be spacious.
Here's a detailed description of the three bike phone mounts:
Case Mounts
Case bike mounts are designed to specific phone models – especially the popular ones such as iPhones, Samsung Galaxy, and more.
 They function as regular phone cases attached to a block that is fitted on the bike. With a case mount, you'll have to remove your phone from its normal case and place it in the bike case every time you need to use it.
Pros
You can take your phone out of the bike in an instant and the case will still protect it. Case mounts are reinforced and durable.
Cons
You can't control the functionality or styling of the case mount. This means you could be forced to switch cases when you reach your destination.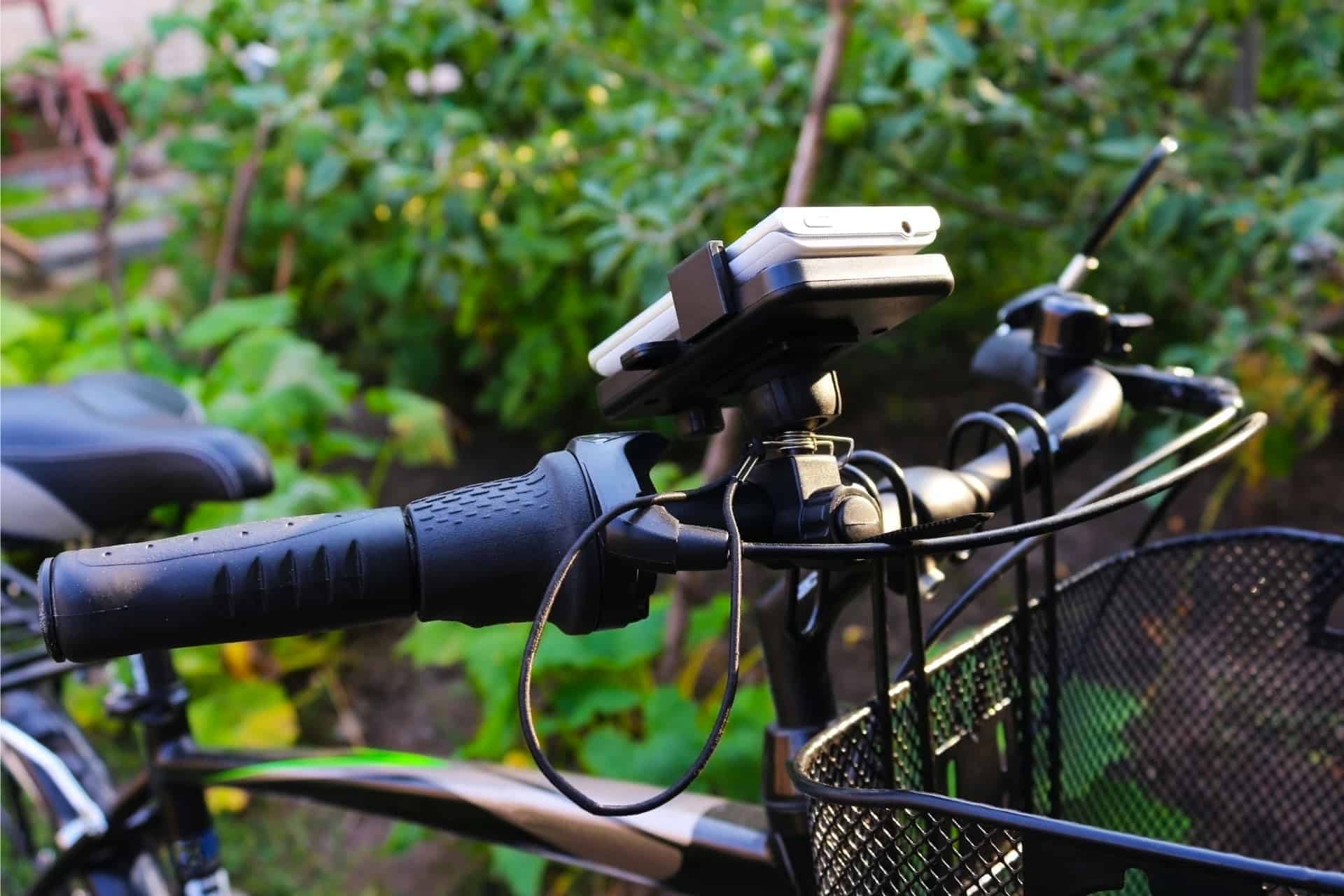 Universal Mounts
Universal bike phone mounts can be used by every mobile phone user, even those who don't own popular models. They are easy to use, with no restrictions.
Their mounting systems have adapters for attaching the phone to the bike mount. Some designs are made to cradle or secure the phone with webbing.
With this model, your phone will be partially enclosed in the bracket, and the bracket doesn't hold it in place. Universal mounts are lighter.
They come in silicone, metal, or plastic, and they attach to your bike through a rubber grip system with contact points.
Pros
Universal mounts are fully flexible and versatile – a choice for every phone user. You'll use it even after changing your phone.
Cons
Since these types of mounts are for all phones, they may not fit your phone perfectly due to varied dimensions and designs.
Universal Frame Bags
A universal frame bag will protect your mobile device against elements such as rain and splashes while providing extra storage.
It holds your phone in a transparent bag and can accommodate all types and sizes of phones.
Most of them are designed with ports you can plug in as you cycle.
The nature of their brackets makes them stiffer. They are bigger but also flexible. Some have been created with a sensitive film that allows you to use your touchscreen when the phone is still in the bag.
Universal frame bags tend to be heavier and bulkier, but very reliable and safe. They're connected to the bike using Velcro.
Pros
Universal frame bags offer more storage room if you have extra items to carry, such as your wallet, keys, bike pump, etc.
Cons
Universal frame bags are bulky and can reduce your phone's functionality due to their water-tightness and other protective features.
3 Things to Consider When Buying a Bike Phone Mount
When considering the best phone holder to buy for your bike, you should also look at the functionalities you prefer and mount compatibility.
These factors will help you decide which mount is best for your needs:
Hardcase or Softcase
Most phone bike mounts, especially the high-end ones, are made from aluminum or steel, making them more durable.
The plastic models are durable, too, with the advantage of being waterproof, lightweight, and rust-resistant. Your choice of phone mount will highly depend on your usage preferences.
Hardcase phone mounts are costly compared to the softcase options.
They are also model specific and are designed without software capability. But the softcase models are known to be more versatile and can work with any smartphone. They feature touchscreen capability too.
Waterproofing
Too much exposure to weather elements can degrade bike mounts, especially those designed from rubber. A good phone bike mount is one that can withstand humid weather, rain, or puddle jumps.
If you are a frequent biker, you should buy a phone bike mount that is waterproof, one that is manufactured from hard plastic with strong silicone bands. Always check the screen cover reference to confirm if you can use your phone screen the usual way.
Handlebar Mount or Stem Cap Mount
When purchasing your mount, you should also consider the type of mount. Some stem cap mounting systems allow you to replace the stem cap on your bike and fit it with one that enables you to connect your phone and clear up the handlebar space.
You must know that doing this will put your phone out of your range, and you'll be forced to dip your head more often.
The handlebar mount lets you place your phone on the edge of your sight. But remember, it could clutter up your handlebars.
Things to Look for in a Great Bike Phone Mount
 Can you adjust it easily?
A good phone mount is that which you can adjust easily. You want a unit you can easily adjust your smartphone's angle from landscape to portrait.
A flexible mount can also rotate 360 degrees and allow you to adjust the angle as you desire. You should also be able to release your mobile phone from the mount. So getting a unit with a quick-release button will be an added advantage.
Is it easy to set up?
A phone holder be easy to attach without having to assemble parts. When shopping, look for a holder that is assembled and only has a few tools for installation. Don't get something that has a lot of tools that take much of your time while installing.
How compatible is it with your phone?
Phones come in varied sizes, layouts, and shapes. Your ideal phone mount should fit your smartphone perfectly and attach to your bike with ease without swinging inside the case.
When choosing the best phone bike mount, you have to ensure it will fit your handlebar and phone screen size.
Buying the wrong gadget can damage your phone or make you lose it altogether. You'll also have to deal with the dissatisfaction of buying an accessory that you really need but can't use. Before you decide to get one, make sure you have the right specifications.
Universal phone mounts may be the best choice as they can fit most phones, whether large or small. They are good options if you keep changing your phone.
If you want a snug fit, research a bike phone mount that fits your exact model.
Bike Phone Mount FAQs
What are the top bike phone mount brands available?
Some of the top bike phone mount brands creating a buzz in the market include Quad Lock, Nite Ize Wraptor, and Morpheus M4, among others.
Quadlock is one of the newest phone mount brands in the market designed for iPhone and Samsung Galaxy phones, but it also comes with a universal adapter.
It is a light and robust system that allows you to use horizontal and vertical orientations. It also comes with a standard stem mount and an out-front version.
Quadlock bike phone mount has a unique mounting system that attaches to your phone with a very secure dual-stage mechanism. You can use it on any handlebar. The kit contains a universal mount attachment that can stick on any case or smartphone.
The Quad Lock case holds the phone stable on all types of road surfaces. It is an ideal product if you are a regular biker. The universal adapter and phone case sockets twist and lock firmly to the mount bracket and will only unlock when you release the safety lever.
Quad Lock cases work well with Qi-certified chargers and can protect your phone if it falls on a flat surface face-down. Their mounts are for both stem and handlebars. Setting up the mount is relatively easy.
How secure are bike phone mounts?
The best phone holder is one that mounts firmly on your bike and in which your phone will fit perfectly. This will give you the flexibility to use your phone if need be.
Most phone mounts are entirely secure when mounted tight enough and have safety features that ensure your phone is securely placed in the mount.
After upgrading my phone, do I need to change my bike phone mount?
Not if you installed a universal phone bike mount. The best universal phone bike holder can serve all types of phones, so you don't need to change your bike phone mount after upgrading your phone.
But if yours is a case mount, you have no choice but to change your phone bike mount.
Conclusion
A phone bike holder is a worthwhile investment for every biking enthusiast. You can mount it on your bike to give you the convenience of using your phone when you're out taking a ride.
 It's even more beneficial if you are training since you can conveniently use your phone to track your training metrics and guide you.
 With your phone firmly tucked in the best phone bike mount, you can use it to map and record during training.
We firmly recommend the Quadlock phone bike mount, as it offers so much flexibility. Mounts are available so you can use your phone on your your bike, then click it in to your car mount. If you want to go for a run, you can click it into a run band.
If you change your phone, you will need to change our Quadlock cover, but your mounts will still fit. What an awesome, easy, on-the-go solution!