Best Road Bike Under 500
If you're thinking about buying a road bike, it doesn't have to be expensive. There are many road bikes available on a tight budget without compromising on speed and efficiency.
What are we talking about?
We've done our homework to review some of the best road bikes under 500.
Our Top Picks – Road Bikes under £500
Ti-Fa Men's And Women's Road Bicycle
This road bike goes beyond expectations of what you would expect at an entry-level price point. For what it's worth, the frame is made by a combination of carbon and steel; something you wouldn't find in most road bikes under $500. What's more, the bike is fitted with double disc brakes that use a hydraulic fluid that you would find in cars and motorcycles.
To top it off, the saddle is comfortable thanks to its soft sponge and elastic material that is wear-resistant. Did I mention that comes 85% assembled? Also, you won't need any extra tools to fully assemble it since everything is included in the package.
Its double disc brakes, even though it's superior to rim brakes, turns out to be its Achilles heel. You see, it adds a little bit of weight which slightly affects the speed.
Manufacturer Specs
Frame: Carbon Steel
Brake: Disc
Weight: 14 kg
What We Like
High carbon steel frame
It's comfortable
Double disc brakes
Lightweight
It's easy to assemble
High bearing weight
Consistent speed change
What We Don't Like
The disc brakes add extra weight
Summary
If you're looking for a fast road bike with comfortable and reliable disc brakes, this could be a good option. Also, it can support a weight of up to 120 kgs.
Eurobike Road Bike XC550
The Eurobike XC550 is an entry-level road bike for those who want fast speed on a paved road. It comes with drop handlebars and uplifted saddle so you could get into an aerodynamic position and increase the speed. Not to mention, it's designed with high gears that are convenient for racing downhill.
For those who get a headache whenever they're assembling bicycle parts, this unit is shipped with 85% of the parts assembled. You only have to worry about attaching the front wheel, handlebar, pedals, and the seat. Something else that makes it stand out is the dual disc brakes which are very effective on slippery terrains.
Unfortunately, this bicycle weighs about 15kgs which is considered a little bit heavy for a road bike. On the bright side, the steel frame is durable and unlikely to bend.
Manufacturer Specs
Frame: Steel
Brake: Disc
Weight: 15 kg
What We Like
Dual disc brakes
Easy to assemble
21-speed shifting system
It's durable
Good aerodynamics for fast speed
Durable
Budget-friendly
What We Don't Like
Summary
This is a budget-friendly race road bike with disc brakes and high gears for fast speed when cycling downhill. It's available in different frame sizes depending on your height.
Vitesse Swift Unisex Road Bike
The Vitesse Swift Unisex is a race road bike intended for both men and women; although, the recommended inside leg measurement is 31 to 36 inches. If you look a little bit closer, you will notice the tires are wide by design so that most of your energy goes into pedaling the bike forward.
Even the frame geometry is designed for fast speed, just like the drop handlebars that put you in an aerodynamic position. Besides that, it features a 21-speed gear shift system which is good on an incline.
On the flip side, its given weight after full assembly is 14.5 kg. Well, that seems a little heavy for a road bike.
Manufacturer Specs
Frame: Aluminum
Brake: Rim
Weight: 14.5 kg
What We Like
21-speed gear shift
Aerodynamic frame and drop handlebars
Ideal for both men and women
Narrow wheels to focus on speed
Stiff alloy frame
Dual pivot caliper brakes
What We Don't Like
Summary
This one of the cheapest road bikes on our guide, and yet it delivers incredible speed especially on a steep incline.
Whistle Creek 1484 Road Bike
Sure, it doesn't have most of the gimmicks that you would see on most high-end bikes, but its geometry optimizes fast pace on a flat paved road. Beyond that, the gear components are made by Shimano; a reputable brand that manufactures top quality and durable bike accessories.
Surprisingly, it doesn't include the typical Shimano pedal but it comes with a semi-toe clip pedal.
This is useful for beginner riders because you don't need special cleats or footwear to secure your feet. Now if you combine that with the drop handlebars and dual pivot caliper brakes, you have excellent control.
Its biggest shortcoming seems to be the narrow seat which is uncomfortable if you're cycling long-distance. Then again, road bikes aren't particularly known for comfort but speed.
Manufacturer Specs
Frame: Aluminum
Brake: Disc
Weight: 14 kg
What We Like
Easy to assemble
Aerodynamic position
Durable components
Detachable gear hanger
Comfortable pedal
Excellent control
Dual pivot caliper brakes
What We Don't Like
The seat is not comfortable
Summary
This road bike is recommended for beginners who want to learn fast without spending too much.
HYCBTC 27 Road Bike
Quite impressive, this road bike weighs about 5 kilograms! Of course, it has something to do with the full carbon fibre frame that you would normally find in most professional racing road bikes.
Unlike most road bikes, it features straight handlebars for a more upright posture. More succinctly, it's comfortable to go on a long-distance trip without straining your back and neck.
Actually, you can even take it off-road without feeling like jumping out because you're uncomfortable.
Additionally, it's designed with linear disc brakes that are consistent with any type of weather conditions. Well, there is always a "but"; let's just say it isn't very fast compared to other road bikes because of the more upright riding position.
Manufacturer Specs
Frame: Full Carbon
Brake: Disc
Weight: 5 kg
What We Like
Very lightweight
Full carbon fibre frame
Suitable for both men and women
Comfortable seat
Durable chainset
Reliable disc brakes
Straight handlebars for more upright posture
What We Don't Like
Summary
Despite its low price, the frame is made of full carbon fibre material. This is one of the lightest and most comfortable road bikes on our guide.
LXC Unisex Road Bike
The drop handlebar on the LXC road bike is designed in such a way that it would be possible to bend over in an aerodynamic position for fast speed or sit up more upright if you want to feel relaxed. Even the seat is made with a special memory sponge that absorbs sweat and makes your ride comfortable over a long distance.
The high carbon steel frame gives it a competitive edge compared to other bikes that are only made using aluminum or steel alloy. The best part is it comes with most of the parts assembled, plus instructions to help you out.
It's definitely a super-fast road bike on flat roads and inclines, but its weight could be a drag if you're going uphill.
Manufacturer Specs
Frame: Carbon steel
Brake: Disc
Weight: 14 kg
What We Like
High carbon steel frame
Up to 27-speed gear shift
Multi-purpose road bike
It's easy to assemble
Comfortable saddle
It's fitted with double disc brakes
What We Don't Like
Summary
This is what we call a commuter road bike that you can use to cycle to work or school.
Hong Lian Riven BMX Road Bicycle
The Hong Lian Riven looks like the type of sport road bikes you would see in racing competitions. First off, the tires are thin on the treads but thick on the sidewalls extending into the rims.
This is not by default but by design to make it a motocross road bike that can also navigate on off-road terrains.
Still, it remains faithful to the original road bike's blueprint by using a drop handlebar for improved aerodynamics.
In addition to that, the high carbon steel frame is strong enough to support a weight of up to 100 kgs.
Even though you can take it for a ride on off-road terrains, it doesn't perform like a mountain bike. Not to mention, the drop handlebars don't allow you to ride in an upright position.
Manufacturer Specs
Frame: Carbon steel
Brake: Disc
Gearing: Single gear fixie
Weight: 14 kg
What We Like
High bearing weight
High carbon steel frame
Comfortable saddle
Durable tires
Easy to maintain the drivetrain
It can be cycled on off-road terrain
What We Don't Like
Not ideal for upright posture
One gear will make hill climbing challenging.
Summary
An aesthetically pleasing motocross road bike that is easy to assemble and maintain.
ATGTAOS Road Bike
Here is something interesting; this road bike is engineered with a shock absorber on the front fork so you wouldn't feel uncomfortable when you hit bumps.
It also includes a wide gear range that is adapted for mountain terrain. If we didn't know any better, we would think it's a mountain bike but the drop handlebars and aerodynamics say otherwise.
The wheels are 26 inches in size with a hollow design to improve its handling and cornering capabilities. Moreover, the tires have a shorter braking distance compared to most regular types of wheels; the dual disc brakes only make them more efficient.
Despite this road bike coming with a stiff aluminum frame, it could have been better if it was blended with carbon fibre.
Manufacturer Specs
Frame: Aluminum
Brake: Disc
Weight: 14 kg
What We Like
Shock absorber
Mountain shift gears
Mechanical disc brakes
Consistent speed change
Stiff aluminum frame
Easy to assemble
It's packed with accessories
What We Don't Like
It doesn't have the lightest frame material
Summary
This one of the few road bikes on our guide that features a shock absorber in case you find yourself on rough terrain.
CLOUDH 700C Road Bike
With a drop handlebar and a lifted saddle, this is a racing road bike that is built for fast speed. It includes a 21-speed derailleur that makes it easy to work on the pedal and optimise the speed.
Speaking of the pedal, it's a non-slip type so it would be difficult to lose your grip as long as you've got the right shoes.
The frame? It's made of carbon steel and it's long enough to accommodate a rider who is 5'9 feet tall. Additionally, the geometry is designed for both men and women.
Fixing it should take you just a few minutes since it's usually 85% pre-assembled.
The only issue seems to be its 15kg weight. Then again, for such an entry-level bicycle, that is considered normal.
Manufacturer Specs
Frame: Carbon Steel
Brake: Disc
Weight: 15 kg
What We Like
Carbon steel frame
Easy to assemble
Reliable brakes
Non-slip pedal
Comfortable seat
Built for racing speed
21-speed gear
What We Don't Like
Summary
A budget-friendly and durable racing bike with a high carbon steel frame to improve overall performance.
What Is A Road Bike, and Why Would You Use It?
Have you ever been cycling on the pavement and pedaling your socks off, but no matter how hard you try, you keep getting passed by guys who are riding a different type of bike? Despite your body fitness, it looks like they're putting half your effort yet they're going faster on the pavement. Chances are, they were riding a road bike and you were riding something else.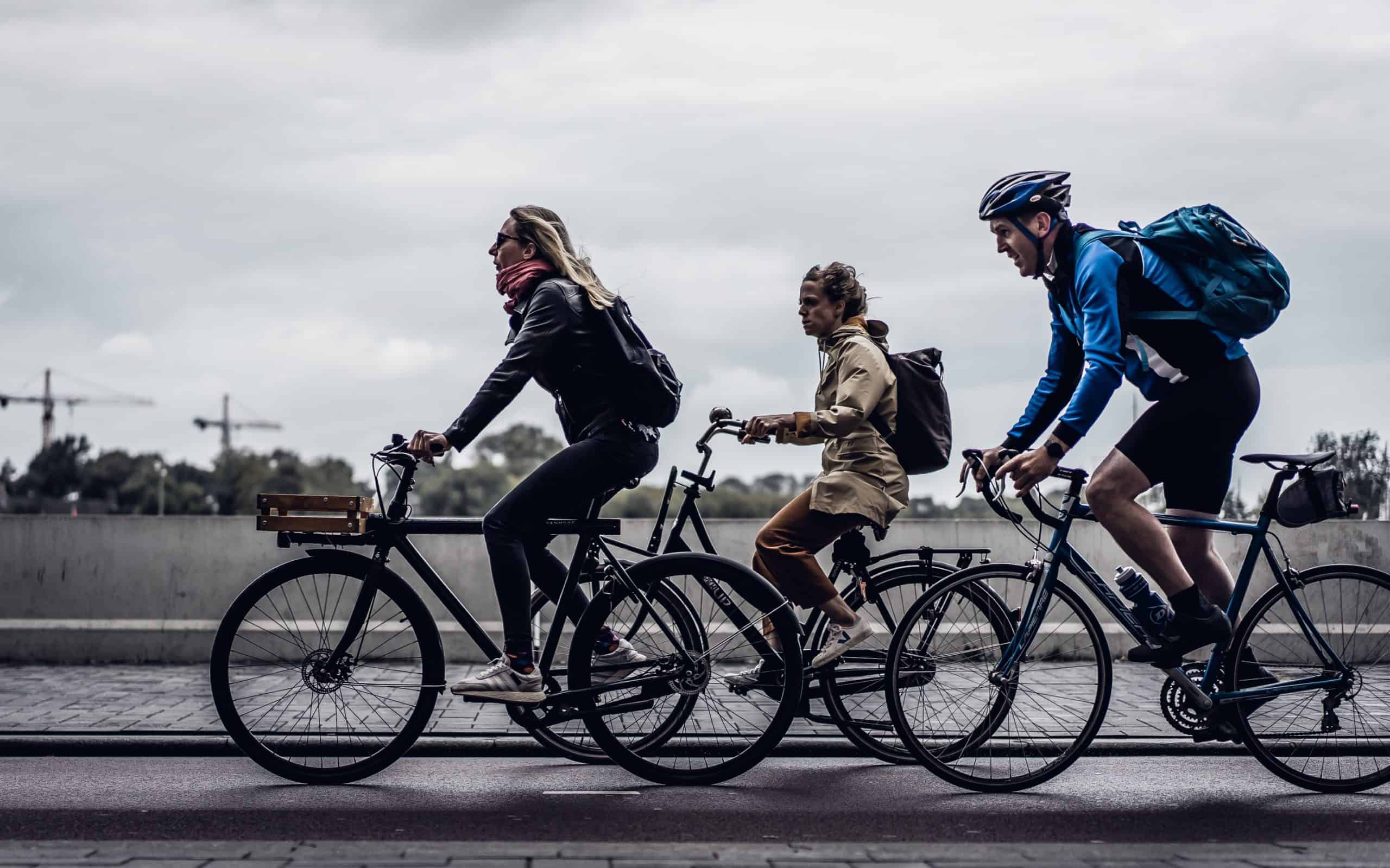 A road bike is built for fast speed on the pavement; usually, people call it "the sports car of bicycles". It's no surprise that most of the professional bicycle racers use road bikes when competing on pavement roads.
At its core design, a road bike is usually built with drop style handlebars, skinny tires, a lightweight frame, and a high gear ratio. How does that make a difference? First, it offers less wind resistance due to its aerodynamics position, plus its lightweight frame makes it easier to move.
Also, the skinny tires play a huge role by reducing the rolling resistance and the higher gears make it ideal for descending. In short, you should go for a road bicycle if you want to have the fastest bike on a paved road.
Road Bike Alternatives
Mountain Bike
As the name suggests, a mountain bike is designed for rocky mountain or off-road terrain. Unlike a road bike, a mountain bike is fitted with flat handlebars, big thick tires, and suspension. Think of it like a Jeep SUV for bicycles; sure, you can ride it on smooth tarmacked roads but it's best suited for rough terrains.
Photo by Cole Wyland on Unsplash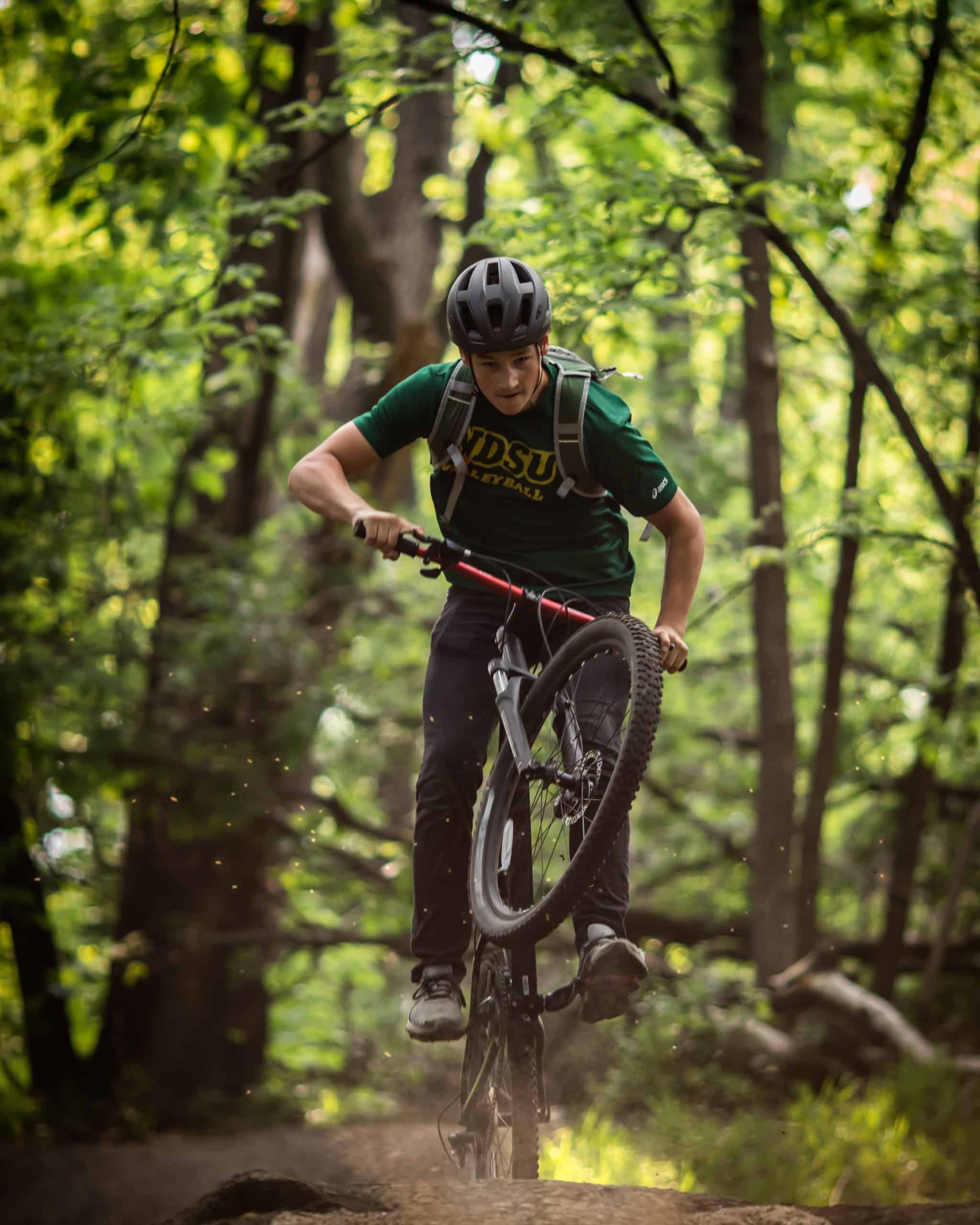 Another advantage of a mountain bike is that it allows you to sit comfortably in an upright position, which is convenient if you have neck and backache problems. However, even though the mountain bike is the king of the off-road terrain, it's no match for the road bike when it comes to going fast on tarmac roads.
Hybrid Bike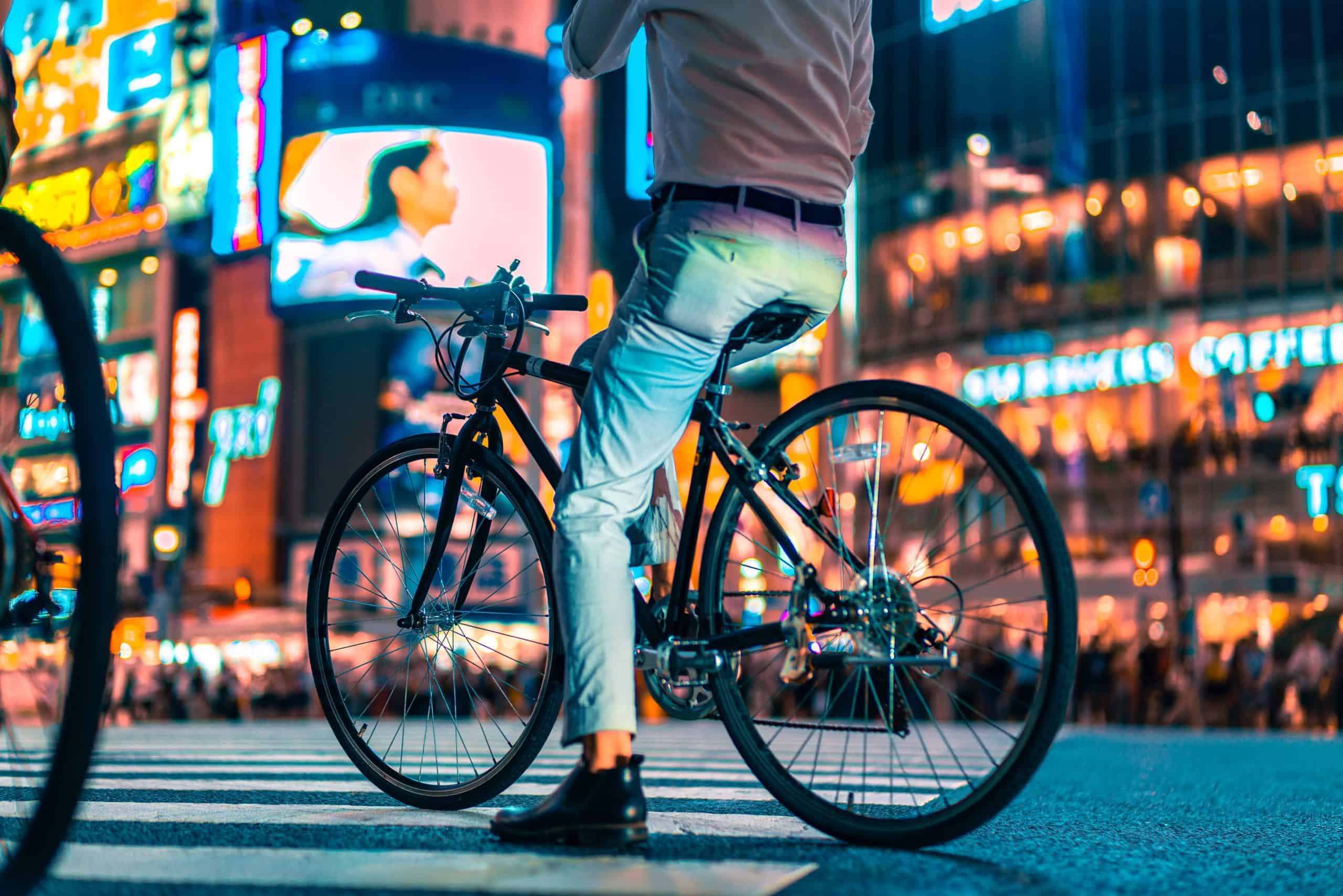 Photo by Jezael Melgoza on Unsplash
A hybrid bike is what would happen if a mountain bike and a road bike have a child. To put it into perspective, most hybrid bikes are designed with flat and straight handlebars that you would see on a mountain bike. On the other hand, they usually come with narrow tires that are common on road bikes.
If you're looking for a bike to ride on both paved and rough terrains, a hybrid bike is an ideal option. Perhaps if you also want a bicycle with a mount rack to carry luggage, that is something you will find in some hybrid bikes, specifically the touring hybrid bike. Besides that, hybrid bikes are very comfortable to ride and you can sit in an upright posture.
Even so, a hybrid bike isn't faster than a road bike.
Read our in-depth guides to hybrids:
Types of Road Bikes
Now that you know what is a road bike, you ought to know the different types available. It could be difficult to tell the different types at first since they all have similar characteristics when you look at the drop bars, frames, and skinny tires.
However, each subcategory is slightly modified to optimise performance in certain conditions.
What are we talking about?
Race road bike
This is the type of road bike that you will see in most cycling competitions. The frames are usually made of lightweight materials such as carbon fibre; although sometimes it could be steel, aluminium, or titanium.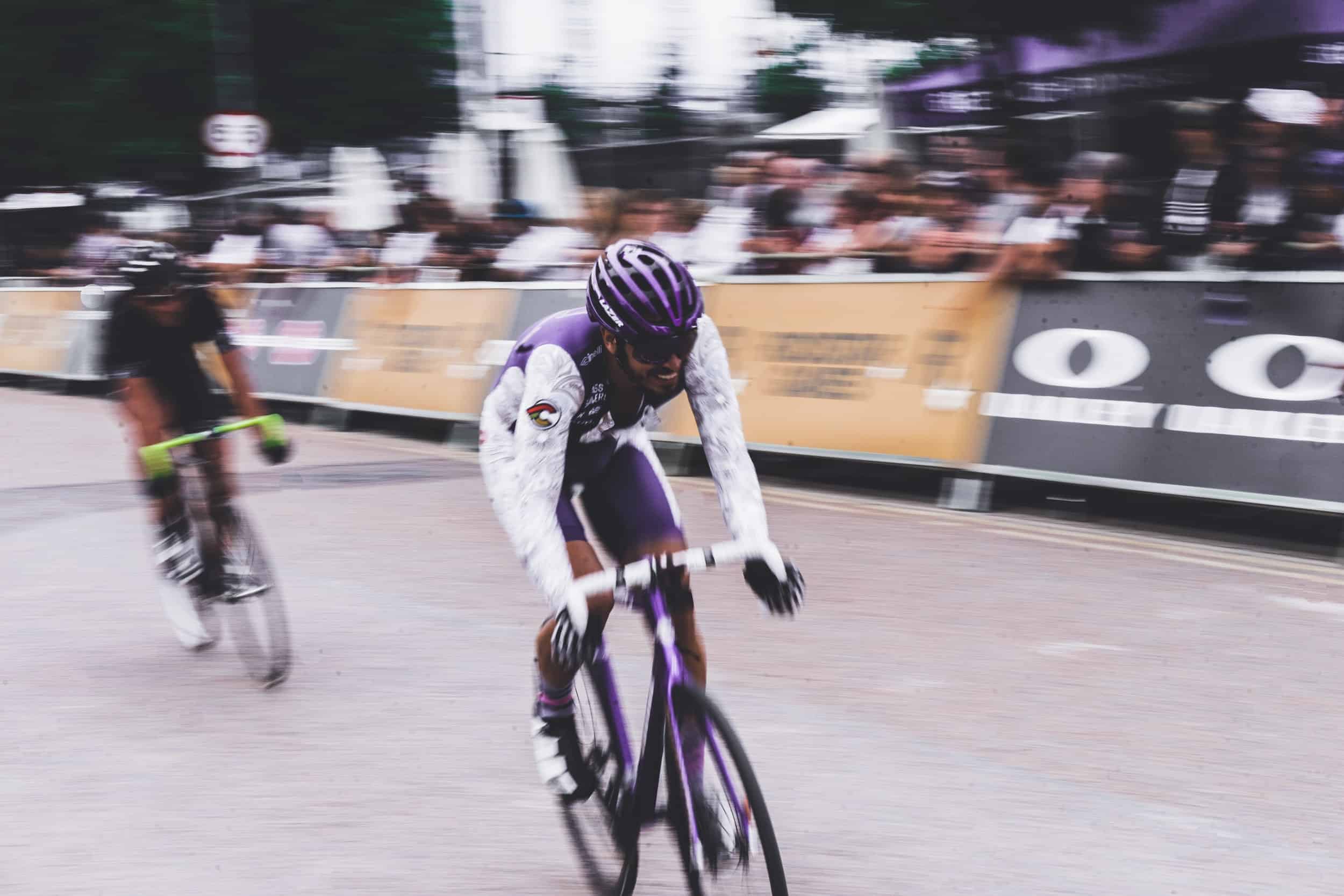 Photo by Boris Stefanik on Unsplash
Since its design prioritises speed over comfort, the geometry will put you a little bit lower for a better aerodynamic position with most of your weight hard-pressed closer to the front wheel for a quicker steering manoeuvre.
Endurance Road Bike
If you're going out on a long-distance trip and the emphasis is on endurance over speed, this type of road bike could be a good option. It can be almost as quick as a race road bike, but it gives you a more upright posture to make it easier for your neck and shoulders. Also, the handling is tweaked to make it more stable.
Cyclocross Road Bike
The cyclocross is what you would get if you want to ride on mud, sand, grass, dirt paths, and paved roads. A typical cyclocross road bike is designed with wide, knobby tires but it still maintains the drop-style handlebars. Sure, it can transverse through most obstacles but don't confuse it with a mountain bike.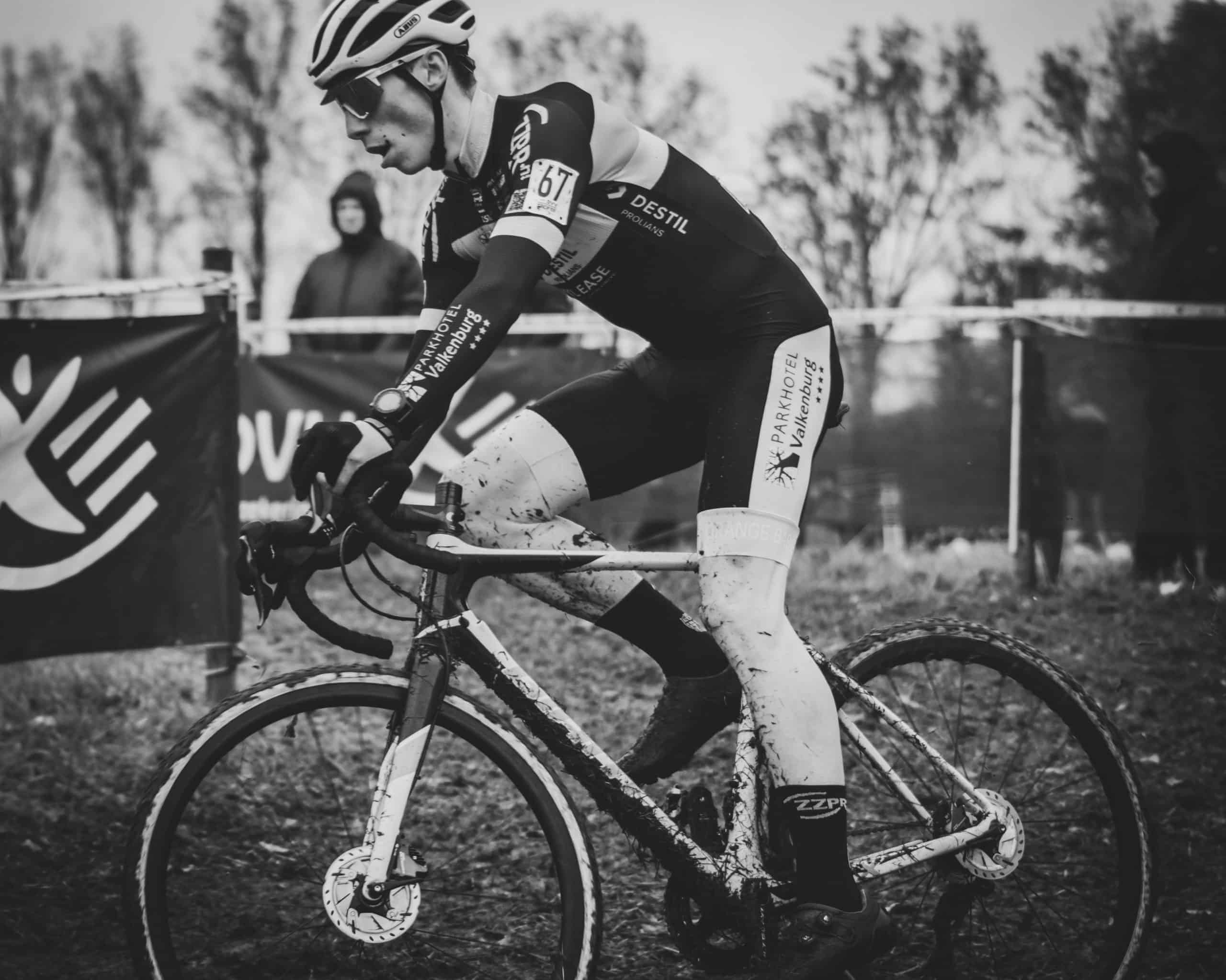 Photo by Tom Photo Cycling on Unsplash
Touring Road Bike
It's easy to identify touring road bikes because they're built with luggage racks at the back. Beyond that, they're anything but ultra-lightweight; the frames are usually made of steel to support the added weight of carrying a load on your bike.
The wheels and rims are strong too, so that your bike doesn't get overwhelmed on a long ride. Actually, they have a wider gear range than most road bikes. Despite the extra weight, touring road bikes are comfortable with large seats and geometry for an upright riding position.
Gravel Road Bike
The gravel road bike is the new kid on the block. Its design integrates qualities of both cyclocross bikes and touring road bikes. For starters, it usually features wide tires equipped with disc brakes that make it ideal for off-road activity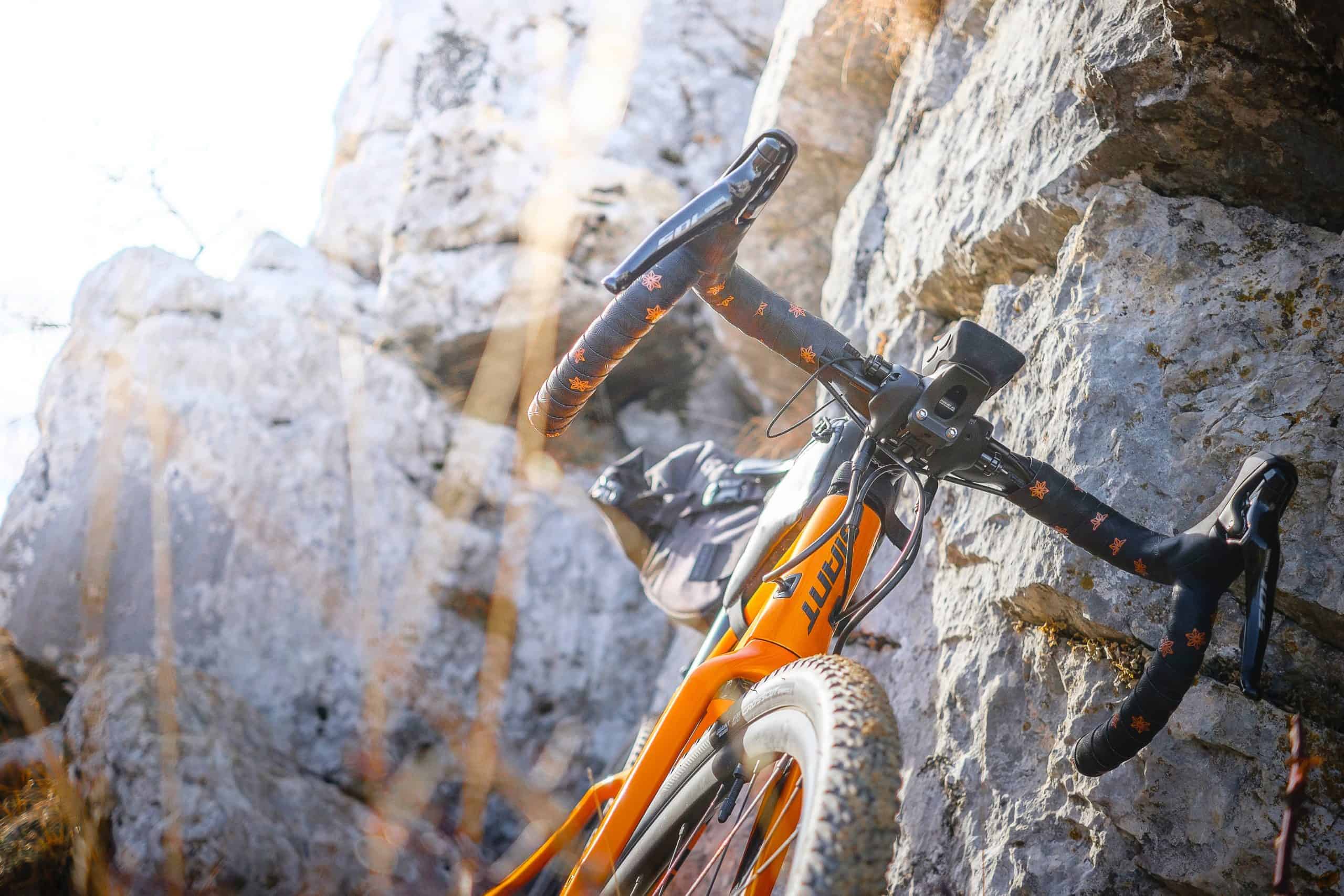 Photo by asoggetti on Unsplash
Even though gravel road bikes are not fast compared to other types of road bikes, they're very comfortable especially if you're cycling long-distance.
Time Trial/Triathlon Road Bike
If you've ever been in a time trial racing competition, cyclists compete against time to see who will reach the finish line over the shortest time possible. It's like the rally for bicycles but it's done on flat and straight paved roads, and riders are forbidden to share the slipstream.
For you to win a time trial race, you need a road bike that can cheat the wind. Now that's where a time trial or a triathlon road bike comes in; it allows you to ride with less propelling power and low wind resistance.
It's easy to recognise triathlon road bikes from a crowd due to their airfoil-shaped frame, large flat tubes, and special handlebars with elbow resting pads. Also, they have steep angles and you won't see the hidden cables or the brakes from the sides.
Aero Road Bike
Similar to a time trial (TT) bike, an aero road bike is designed to capitalize on aerodynamic features. However, they're not faster than most time trial bikes since those are built specifically for racing competitions. On the other hand, aero road bikes do have advantages as they reduce drag and they can be faster than typical racing bikes on certain courses.
Likewise, the cables are fixed on the inside of the frame so you won't see them. For the frame material, they're mostly made of carbon fiber.
Commuter Road Bike
A commuter road bike is designed to offer speed and efficiency and still give you the comfort to commute to school or work. Due to its purpose, it's not unusual to see a commuter road bike with fittings where you can set up a pannier rack and mudguards.
Other notable features could include disc brakes and puncture-resistant tires. As for the riding position, you can either choose a model with a flat or a drop bar-style depending on your preference.
E-Road Bike
Otherwise known as electric road bicycles, they're equipped with an electric motor to help you to pedal. In case you're wondering, most E-road bikes require at least 3 to 6 hours to fully charge the battery. Alternatively, some premium models have something called regenerative pedaling that makes it possible to charge the battery as you're riding.
If you're too old or have a leg injury, an E-road bike can assist you to keep up without too much pressure. They do tend to be more expensive than £500 or $500 though.
5 Things to Consider When Buying a Road Bike for Under £500 or $500.
Assembly
If you want to reduce the cost when buying a road bike, it would be cheaper to do an out of box assembly. To do that, you will need a bike tool kit and a user's manual to help you out.
Fortunately, most bicycle manufacturers that ship the product for a do it yourself assembly provide step by step instructions to follow on the user's manual.
Here is an example of how it should be done:
Of course, you have to think about the future if you're planning to upgrade some parts afterwards. For that reason, it would make sense to go for a road bike with an option to replace the seat saddle, seat post, and handlebars for extra comfort.
Otherwise, if you don't think you can assemble it yourself, it won't hurt to seek a professional to do it.
Bike Weight and Size
Since most bikes under $500 are not built for competitive racing, don't expect them to be extra-lightweight. Most bikes in this price range will weigh between 10kg to 15kg.
Needless to say, you should also look for weight-bearing or rather how much weight your bike can support without getting overwhelmed. Some of the best road bikes under $500 can support a weight of up to 120 kgs without a problem.
Frame
Most entry-level road bikes that are sold for less than $500 come with steel and aluminium alloy frames. However, it's not unusual to find a low budget road bike with a frame made out of carbon fibre; the same material you would find in high-end models.
So which is better: carbon fibre, aluminium, or steel?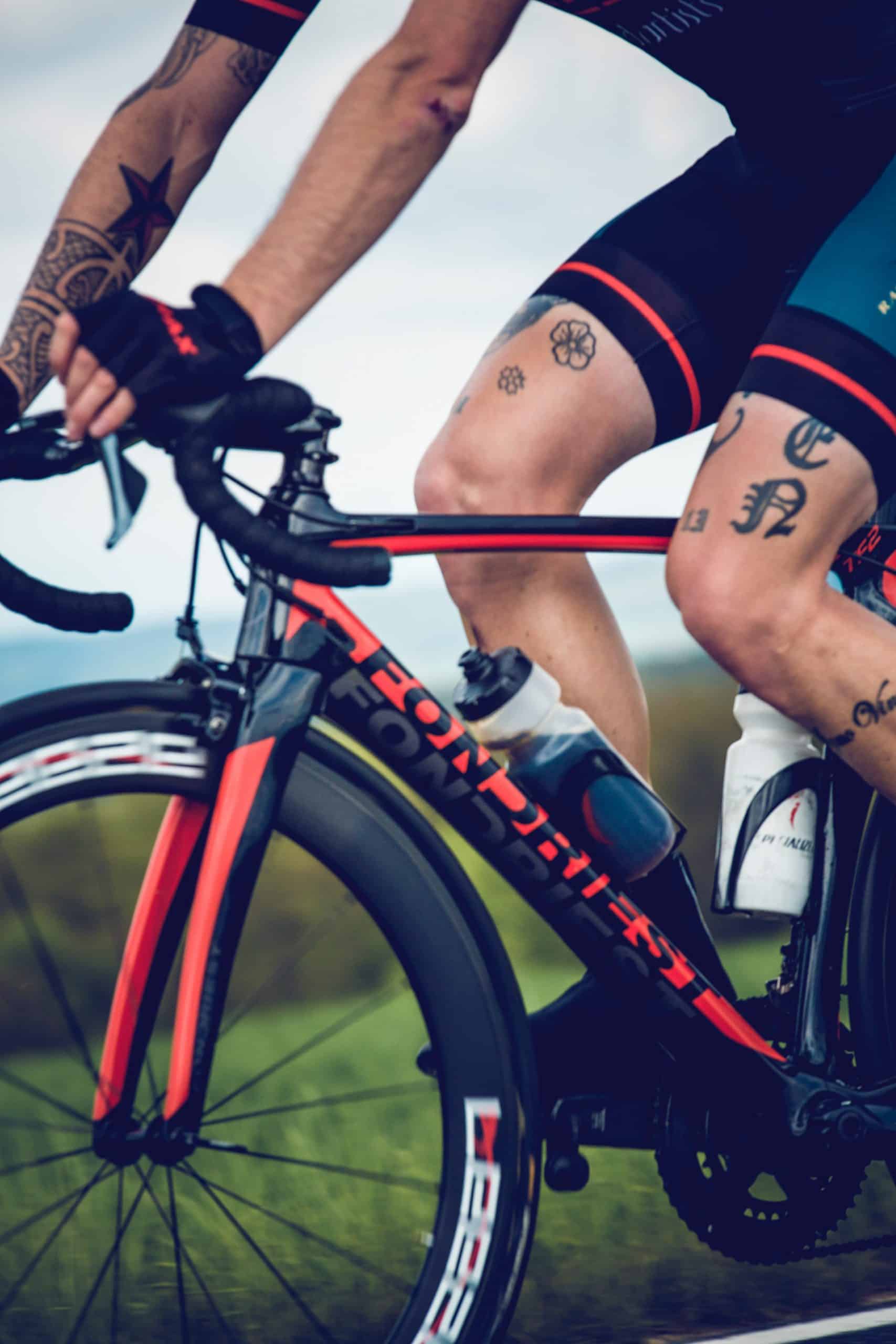 Photo by Markus Spiske on Unsplash
Definitely, carbon fibre is the best frame material since it makes a bike stiff, lightweight, and comfortable. It's not surprising, road bikes made with carbon fibre weigh as little as 5kg.
Alternatively, a good second option would be a frame made by blending carbon fibre with steel or aluminium. Even though that won't be as effective as a frame moulded by using only carbon fibre, it would be the closest thing to premium models.
However, if you're faced with an option to choose between aluminum and steel, keep in mind that aluminum is stiffer and lighter but steel is more durable with better comfort.
We're not done yet; you should also consider the size of the frame based on your height.
What do we mean?
If you choose the wrong bike size, you will be uncomfortable and prone to injuries. Because of that, you must confirm the recommended rider height on the website before you make a decision.
Mind you, when we're talking about the height to frame size ratio, we don't just mean your full height from head to toe. You should also know your inside leg height (from the crotch to ankle), to decide the size of your bike.
Brake Components and Drivetrain
The drivetrain is basically the bicycle's engine and it includes the pedals, chain, cassette, cranks, derailleurs, and chainrings. The drivetrain on road bikes that are sold under $500 will usually be made out of aluminium and steel; although you could still find some low budget bikes that use carbon fibre.
Something else that you need to pay closer attention to are the chainrings; which dictate the gear ratio. Usually, most entry-level road bikes will have two or three chainrings for a wider range.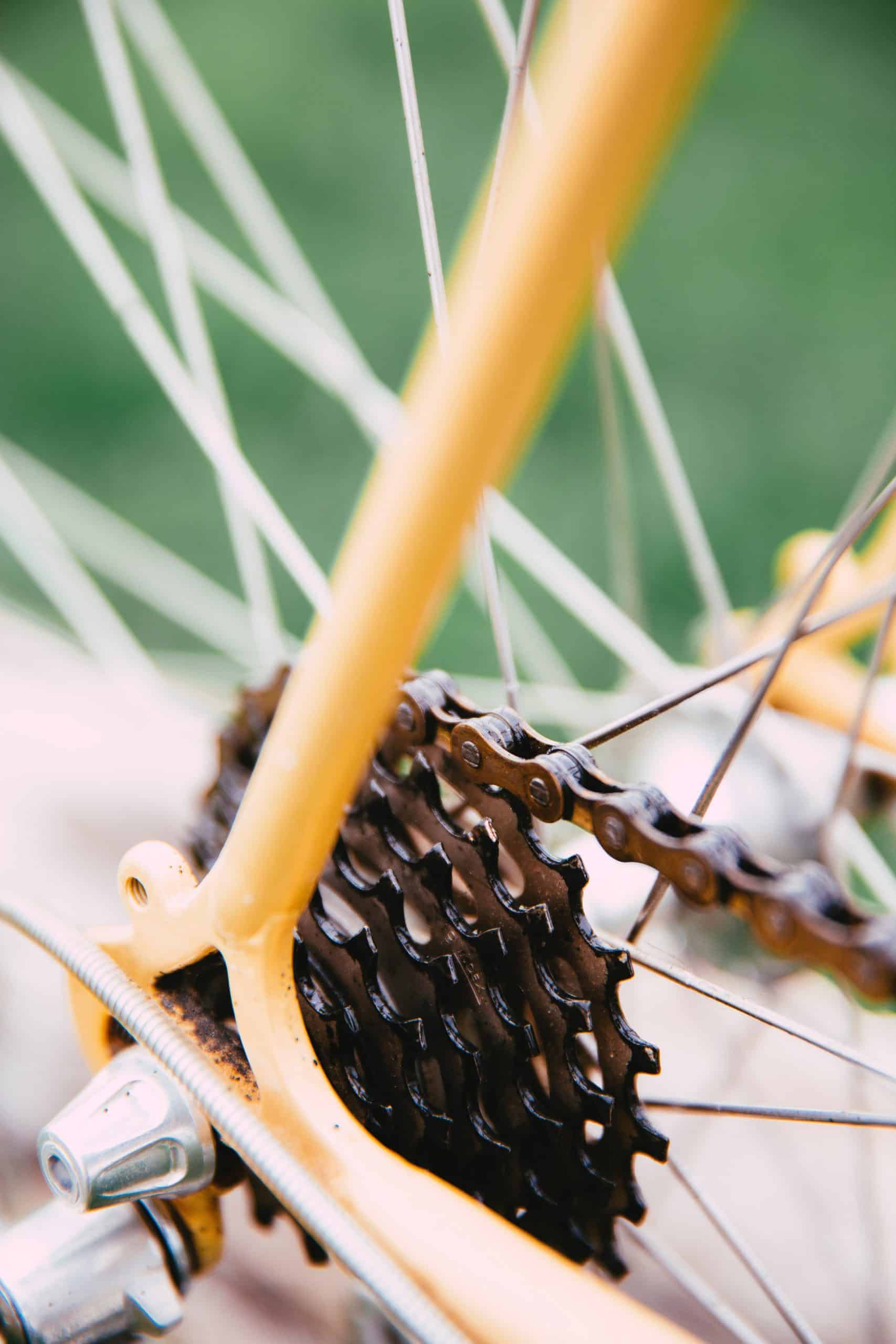 Photo by Markus Spiske on Unsplash
Traditionally, most road bikes were designed with 53 teeth on the large chainring and 39 teeth on the small chainring. However, the ratio changed and nowadays we have a compact set up with 50/34T crankset that makes it easier to climb up a hill.
Then again, you can choose a semi-compact ratio with 52 teeth on the large one and 36 teeth on the small one; this offers a wide gear range to cycle uphill and downhill.
As for the back, most road bikes under $500 will have cassettes with eight, nine, or ten cogs. Nevertheless, it's not unusual to find road bikes with 11 or 12 sprockets (otherwise known as 11 or 12 speed).
Most likely, you will see cassette ratios like 11/25T, 11/28T, or 11/30T. The smaller the difference between the largest and smallest sprocket on a cassette, the better the pedaling speed consistency when switching gears.
Brakes
Talking about the brakes, there are two types on a road bike with a budget of $500; rim brakes and disc brakes. The rim brake is the traditional method that uses a cable to clamp the wheel rims. On the other hand, disc brakes are a newer technology similar to the technique that uses hydraulic fluid to engage the brakes in your car or motorcycle.
So should you choose rim brakes or disc brakes?
It depends.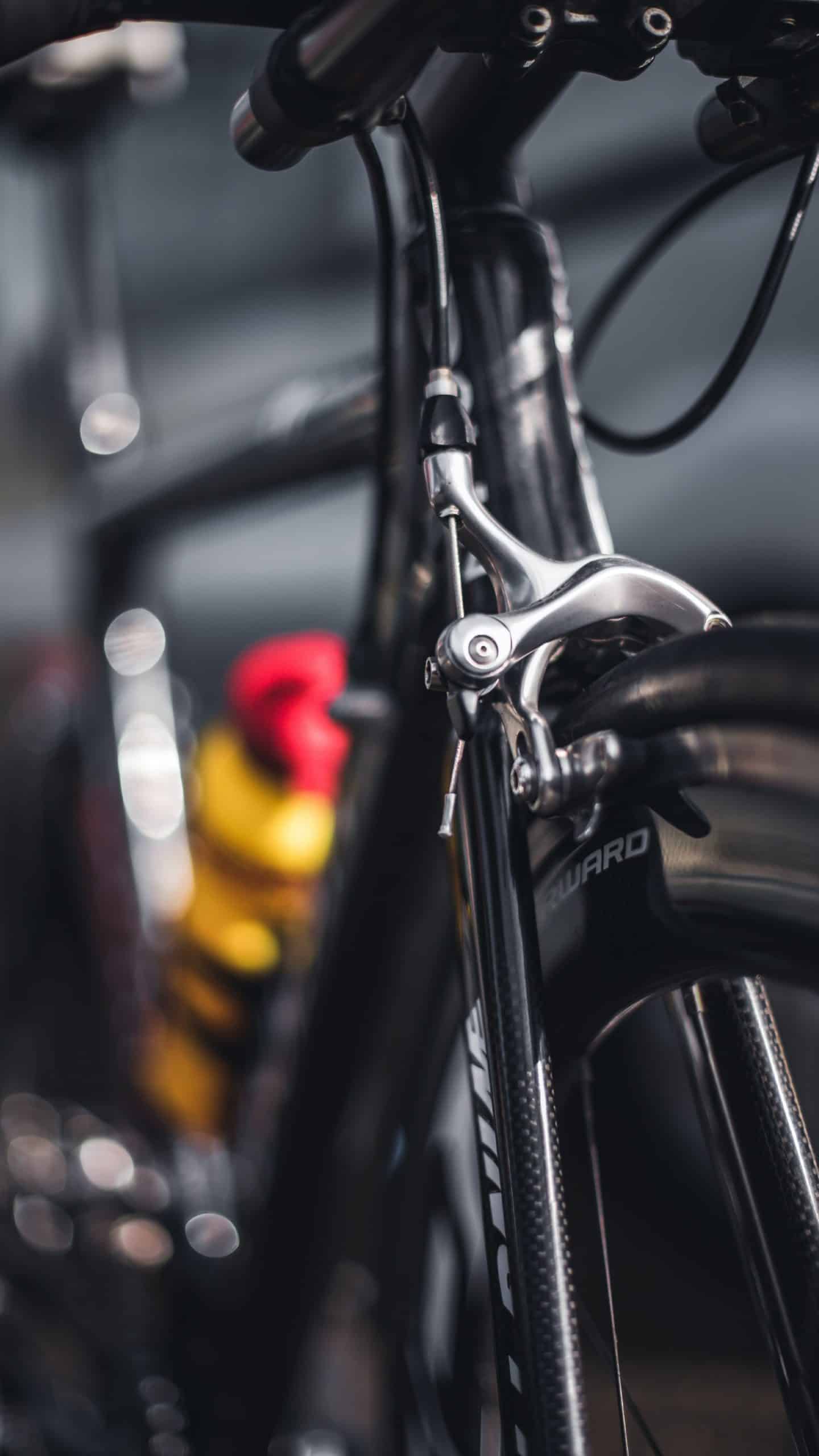 Photo by Valentin Petkov on Unsplash
Disc brakes are consistent whether the terrain is slippery wet or dry, despite adding a little bit of weight to your road bike.
Nonetheless, if you're into fast racing where you're unlikely to slow down or pass through wet terrains, a road bike with rim brakes can do you justice without adding extra weight.
Wheels and Tyres
The wheels on a road bike include the rims, spokes, nipples, and the tires. The materials surrounding the wheels will either be made of carbon or aluminum. As mentioned earlier, carbon is lighter and superior to aluminum.
Anyway, if you want a very fast road bike, you should go for something with tall rims on the wheels for improved aerodynamics. By contrast, shallow or shorter rims are lighter and ideal for cycling uphill.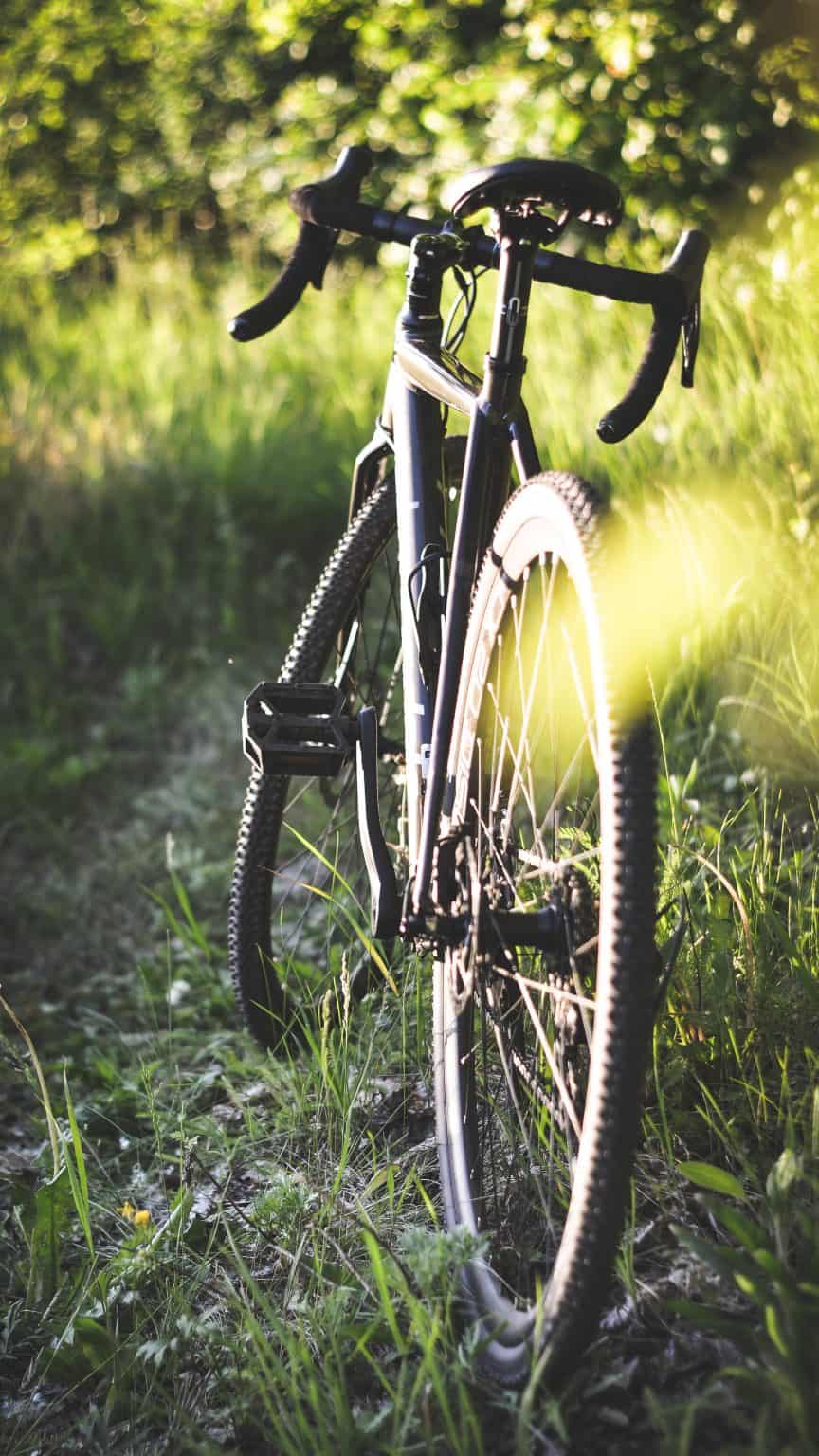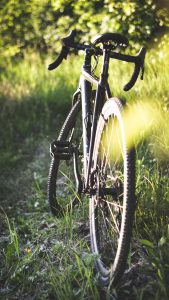 Photo by Andrew PVV on Unsplash
As for the tires, remember this; the wider the tires, the lower the air pressure and the better the suspension.
In other words, the wider the tires' width, the more comfortable you will feel when riding a road bike. No wonder, endurance bikes are usually designed with a width of 28mm or 30mm and race road bikes come with a standard width of 25mm.
Well, it gets more complicated when you think about the different types of tires; tubular, clincher, and tubeless. Tubulars are reserved for professional race bikes like the ones you see on Tour De France, and you won't see that on a $500 bike. (For the curious cats, tubulars are basically stitched inner tubes).
Clincher tires are very common and you will likely find them on most entry-level road bikes under $500. Unlike the tubular, the clincher is made of separate inner tubes and tyre layers that hook into the rim. This means they're easy to fix a puncture.
Finally, we have the tubeless tires that don't have a tube inside. Like you've probably guessed, it's very hard for a tubeless tire to get a puncture; hence it's easy to maintain.
Road Bike FAQs
How Much Should I Spend on a Cheap Road Bike?
Most cheap road bikes are sold for less than $500. However, just because it's considered a cheap price, it doesn't mean you can't get good performance and comfortable road bikes.
Is 9kg heavy for a road bike?
Not really. 9 kg or 10 kg for a road bike is considered mid-range weight. In simple words, not too heavy and not too lightweight.
Can you be too heavy for a road bike?
Yes. Most road bikes have a maximum weight-bearing. The good news is, most road bikes can easily support your weight if you're less than 100 kgs.
Is a lighter bike faster?
Yes. Lighter bikes are usually faster because they have less weight drag to reduce speed.
Why do road bikes have drop handlebars?
The drop handlebars allow the riders to get into a more aerodynamic position to decrease wind resistance and increase the speed.
Why do road bikes have slim seats?
Road bikes have slim seats to balance the weight. Also, as weird as it sounds, slim saddles are designed to prevent your butt from getting sores.
Why do road bikes have narrower tyres than other types of bikes?
Because narrow tyres have low rolling resistance, which means most of your energy will be used to move the bike forward and increase the speed.
Conclusion
When choosing a road bike for under 500, you need to consider how you want to use it, your riding position, what terrain you are going to use it on and how long you will be riding for.
Overall, in our opinion, the Ti-Fa Road Bike came out on top, as it offers the whole package for a person looking to buy a road bike for under £500. More than that, it also offers comfortable riding and a great looking road bike for the price ticket.