Unless you are lucky enough to live next to your favorite bike trail, then you are going to need to put your bike in the back of the truck.
This means when you get there, your two wheeled pride and joy can have its paint scratched, wheels buckled or worse. The alternative is a truck bed bike rack.
We are going to talk about the 6 Best Truck Bed Bike Racks on the market today.
 There are three main types of racks to consider. Let's jump in and take a look!
Fork Mounted Truck Bike Racks
As the name suggests, this type of rack secures your bike by means of locking your bike's forks. Of course, this involves removing the front wheel and storing it separately in your truck.
Remember that leaving your front wheel in your garage will result in more truck miles, much less bike miles and a lot of cursing!
Thule Low Rider 821
The Thule Low Rider 821 is a simple and strong fork mounted truck bed bike rack that can be fitted to your truck floor or even on the side wall.
Installation is quite simple but does involve drilling your truck but Thule even supplies you with a drilling template to help you get your bike rack in exactly the right place.
You can watch a video of installation and test here
What we like
Strong construction
Simple design
Lock included
Fits almost any truck
What we don't like
Nothing really, an excellent starter truck bed bike rack
Yakima BlockHead Bike Mount
A single bike fork mounted stand much like the Thule 821 Low Rider.
Constructed from aluminum and covered in a black vinyl covering, the Yakima BlockHead certainly looks and feels high quality kit.
What we like
Strong construction
Easy to fit
What we don't like
Requires additional hardware to fit
No lock
Swagman PICKUP Fork Mount Bike Rack
The Swagman Pickup Fork Mount Bike Rack really is a brilliantly and simply designed truck bed bike rack that will fit almost every truck.
With its adjustable telescopic ends, this steel constructed rack will fit truck widths between 52-69" and features 2 fork blocks mounted to the rack.
What we like
No need to drill
Can fit two bikes
Flexible, can fit most trucks
What we don't like
Availability (often hard to get)
Pricey if only carrying one bike
Side Clamp Racks 
There is a bit of a giveaway in the name. These are systems that are designed to clamp your bike to the side wall of your truck.
They fit most trucks and have the benefit of keeping your bike to the side, this leaves plenty of room for the rest of your gear on the floor of your truck.
INNO RT201 Truck Bed Bike Mount
What We Like
Simple design
Inexpensive
Leaves plenty of space in your truck for other stuff!
What we don't like
Care and Effort needed to secure bike properly, can be a bit wobbly
Easier target for thieves
Wheel Mounted Truck Bed Bike Racks
These bike racks are similar to fork mounts but you don't need to disassemble your bike, all you need to do is push the front wheel into the rack and secure it with its locking mechanism.
No chance of leaving your front wheel at home.
Thule Insta-Gater Pro Truck Bed Bike Rack
The Thule Insta-Gater Pro Truck Bed Bike Rack is a piece of engineering genius.
Fitting the rack to your truck is so easy, no drilling is needed as the Thule Insta-Gater Pro Truck Bed Bike Rack secures itself to your truck by using the gap between the truck floor and the tailgate to anchor it. Installation literally in seconds.
Made from aluminum and weighing in at 11 pounds this "made for any bike" looks the part on any truck. This truck bed bike rack can accommodate any bike up to 50 pounds and with tire widths up to 5 inches, the Insta-Gater can happily take most bikes in its stride.
If you are an e-bike rider then your bike could weigh more than 50lbs. If this is the case then just remove your battery, this should bring you within range.
Locating your bike is both simple and secure, a telescopic arm grips your bike's front wheel and then the bike is locked in place by a cable and lock.
(The lock is included).
What We Like
Fits ANY truck with an operating tailgate
No drilling
Well built and designed
Installed in seconds (Don't time yourself)
Secure and stable
Doubles up as a home bike rack
What we don't like
Expensive (But certaily worth it)
Bike rack for a truck tailgate
So when is a truck bed bike rack not a truck bed bike rack?
The answer is when it is a tailgate pad.
Tailgate pads are fitted to your truck's tailgate by means of straps, the pad is made from a hard wearing nylon fabric and your bikes are strapped to the pad.
Bikes is the correct word as these tailgate pads can hold up to 7 bikes at once depending on the size of your truck and tailgate pad.
Yakima GateKeeper
What we like
Easy Installation
Hard wearing
Looks good
Holds up to 6 bikes 
What we don't like
Bikes are not locked in place so you need to keep guard!
Thule GateMate Pro
If you thought Thule only made regular truck bed bike racks, then you'd be wrong.
Thule also offers a tailgate pad, the largest of which can handle up to 7 bikes at once depending on the size. It must be said that 7 bikes makes for a very snug fit indeed.
As with the Yakima, the Thule GateMate Pro straps to any working tailgate and your bikes are then fastened securely to the pad.
Things to consider when buying a truck bed bike rack
There are a few points to think about when buying a truck bed bike rack, these are our main considerations.
Truck bed size and how many bikes
You will need to check your truck bed size before you buy, it's really embarrassing having to send your shiny rack back to the shop because it won't fit your truck.
The other thing is how many bikes you intend to carry. If you are moving one truck, there is no need to buy a tailgate pad that can carry 7 bikes.
It is worth thinking about the future, you may only have one bike at the moment but you may increase in the future.
Permanent or temporary rack
Depending on how you use your truck, you may need to decide whether a temporary or permanent setup suits you best. Working on the assumption that everything that needs drilling is permanent, the models we have looked at earlier definitely fall into two categories.
If you need every inch of your truck bed when you are not using it for cycling, then you should probably go for a temporary option or maybe a side fitting clamp rack would be better for you.
How secure will your bikes be?
Many of the options we have looked at already come with locking mechanisms, the Thule one-lock system is used on the Thule Low Rider and the Thule Insta-Gator, with other systems need you to consider buying additional security devices if the bike(s) is to be left unattended.
The same applies for the tailgate pads,you will need to buy suitable locks and cables to keep your bike safe.
The side mounts, although they are fastened to your truck, are easy to spot and the fastenings are relatively easy to remove.
Truck bed bike rack FAQs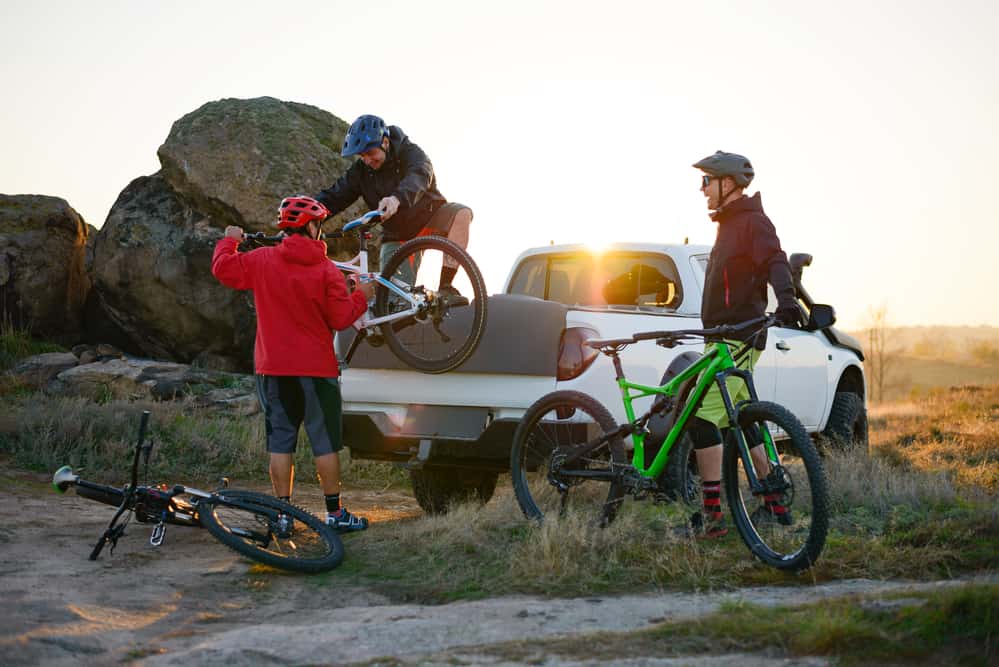 Q. Do I really need a truck bed bike rack?
A. This simple answer is, if you have a bike and a truck then you should have a truck bed bike rack. There are so many stories of riders who have put their bike in their truck without a rack only to find their bike damaged on arrival. Some folks try to improvise by making their own but if you are not a qualified fabrication engineer, then the answer is simple, go get yourself a rack.
Q.What is the best truck bed bike rack?
A.
In some ways this is a difficult question to answer because a lot depends on the individual rider's specific needs. But in terms of the best all round truck bed bike rack, we feel the Thule Insta-Gator wins top spot.
It's strong construction, ease of installation, portability and in-built security ticks as many boxes as we could find!
It is expensive but we feel it still is very good value for money.
Q. Do truck bed bike racks damage trucks?
A. Strictly speaking, yes if you include holes drilled in your truck. These holes can be easily filled when it comes to selling on. Most of the options we have mentioned above will not damage your truck at all.
Q. Can you fit a bike in a pickup?
A. Yes you can. Obviously the truck tailgate pads are not suitable but in most cases the Thule Low Rider, Thule Insta-Gator and the Yakima BlockHead Bike Mount will be able to handle the job. Just measure up before you buy?