How to lock a bike without a rack
Have you ever ridden a bike to a destination and you couldn't find a rack to lock it? One way or another, it's bound to happen if you ride a bicycle long enough; unless you probably live in a bicycle-friendly city like Amsterdam.
In this article, we're going to tell you a few little tricks about how to lock a bike without a rack. Let's get down to it.
Top tips for securing your bike when there is no bike rack
Get a heavy bike lock
If you have a heavy bike lock, it will discourage potential thieves from trying to steal your bike just by looking at it. This is because a heavy chain lock is too much work trying to break.
Besides that, if you carry a bike lock whenever you ride, you will find it easier to secure your bike without a rack.
So what are your options?
Usually, there are two common types of bike locks; D lock (or U lock) and chain lock (or cable lock).
As the name suggests, the D lock is usually a metal rod shaped like a 'D' and a chain lock is usually made of hardened steel links or cable that ties down your bike. Of course, the chain lock is usually more flexible than a D or U lock but the latter is more difficult to unlock.
If you're searching for the best heavy bike locks on the market, we recommend the following products.
Kryptonite KryptoLok Series 2 integrated chain
This is a heavy-duty chain lock made out of manganese steel that is durable and abrasion-resistant. It's covered by a weather-resistant nylon sleeve that prevents the chain from scratching your bike.
The chain is exactly 5 feet (or 150 cm) long with a weight of about 3.67 kgs; that shouldn't be much baggage if you decide to carry it. But what makes it special is the deadbolt design incorporated with the disc-style cylinder that makes the chain lock very difficult to pick and drill.
Also, it comes with two ergonomic keys and if you lose them you can get a free replacement from the manufacturer.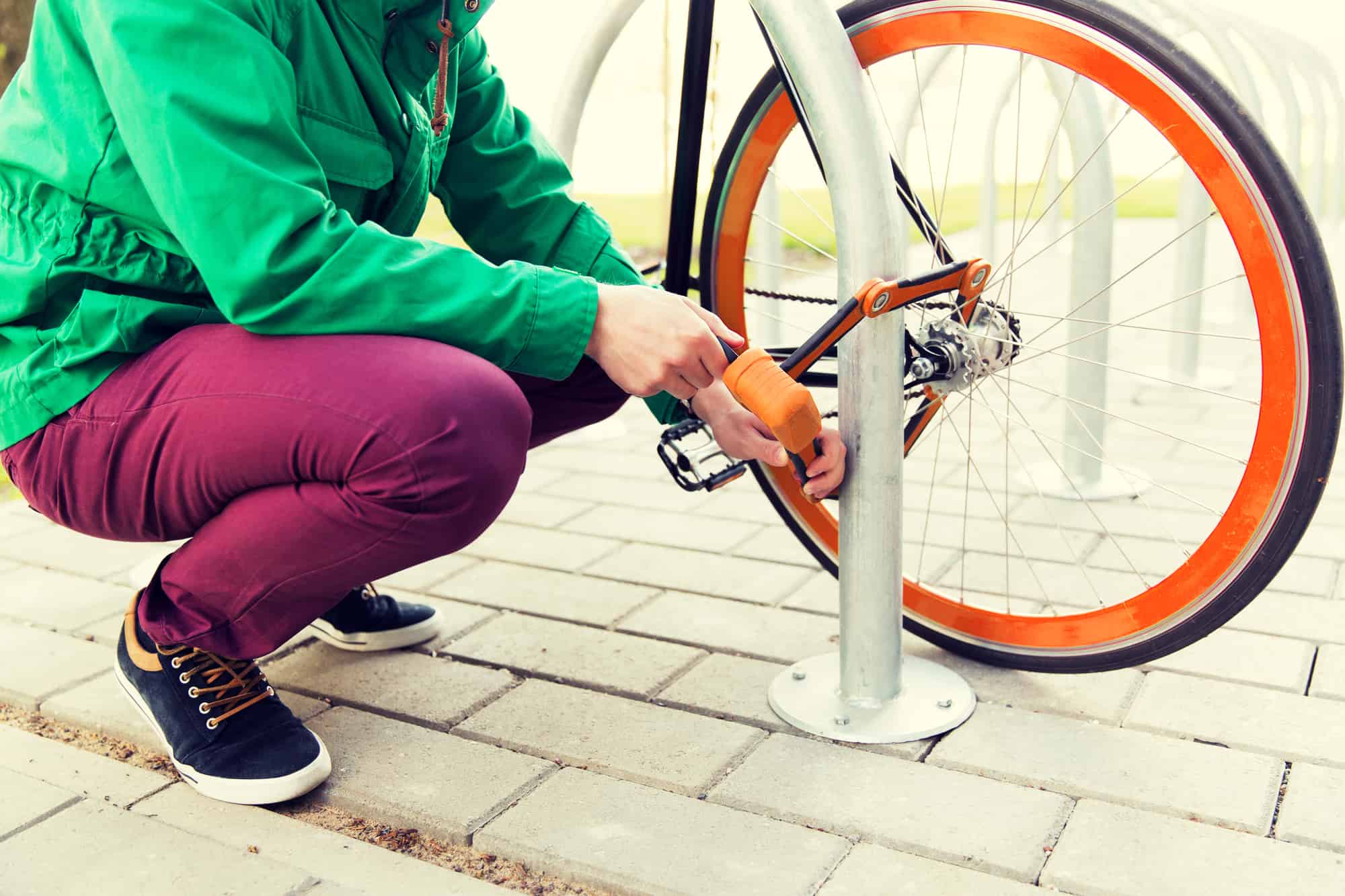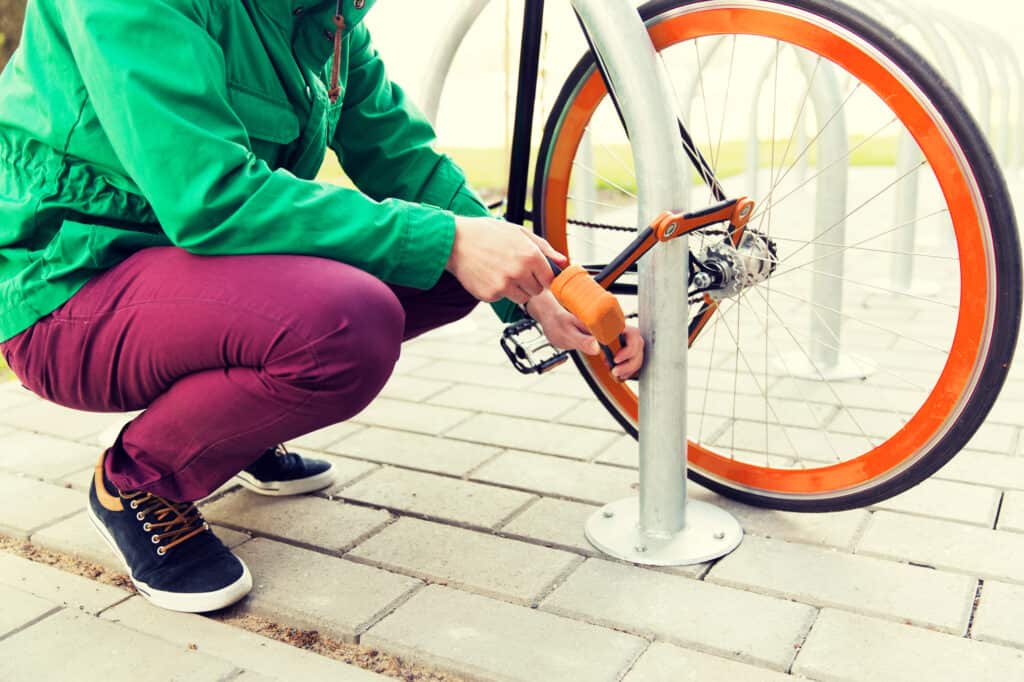 Kryptonite Evolution U-Lock with flexframe
How about a 13 mm U shackle lock made out of steel?
It also comes with an extra 10 mm looped steel cable for extra security.
The U lock features double deadbolts with anti-rotation features to protect against theft attacks. In fact, Kryptonite (the manufacturer) is so confident about its security that you would get up to $2500 reimbursement in case someone successfully breaks the lock and steals your bicycle.
The U lock comes with 3 keys and if you lose them, you can get a free replacement.
Note: For maximum security, we recommend you use a chain lock and a D lock simultaneously.
Lock your bike to things that act like a bike rack
If you can't find a rack, you can improvise and lock your bike on something else. What are we talking about?
Structures to Consider
As a security measure, you should lock your bike on a structure that is difficult to move. The structure should also make it hard for any potential thief to remove the lock over it without using a key.
Here are a few examples:
Trees
Poles or posts
Fences
Benches bolted to the ground
Railings
Things to Avoid
However, you should avoid locking your bike in places where it will interfere with foot or car traffic.
Here are a few examples:
Busy sidewalks
Handicap ramps
Shopping cart corrals
Busy parking lots
Take out the front wheel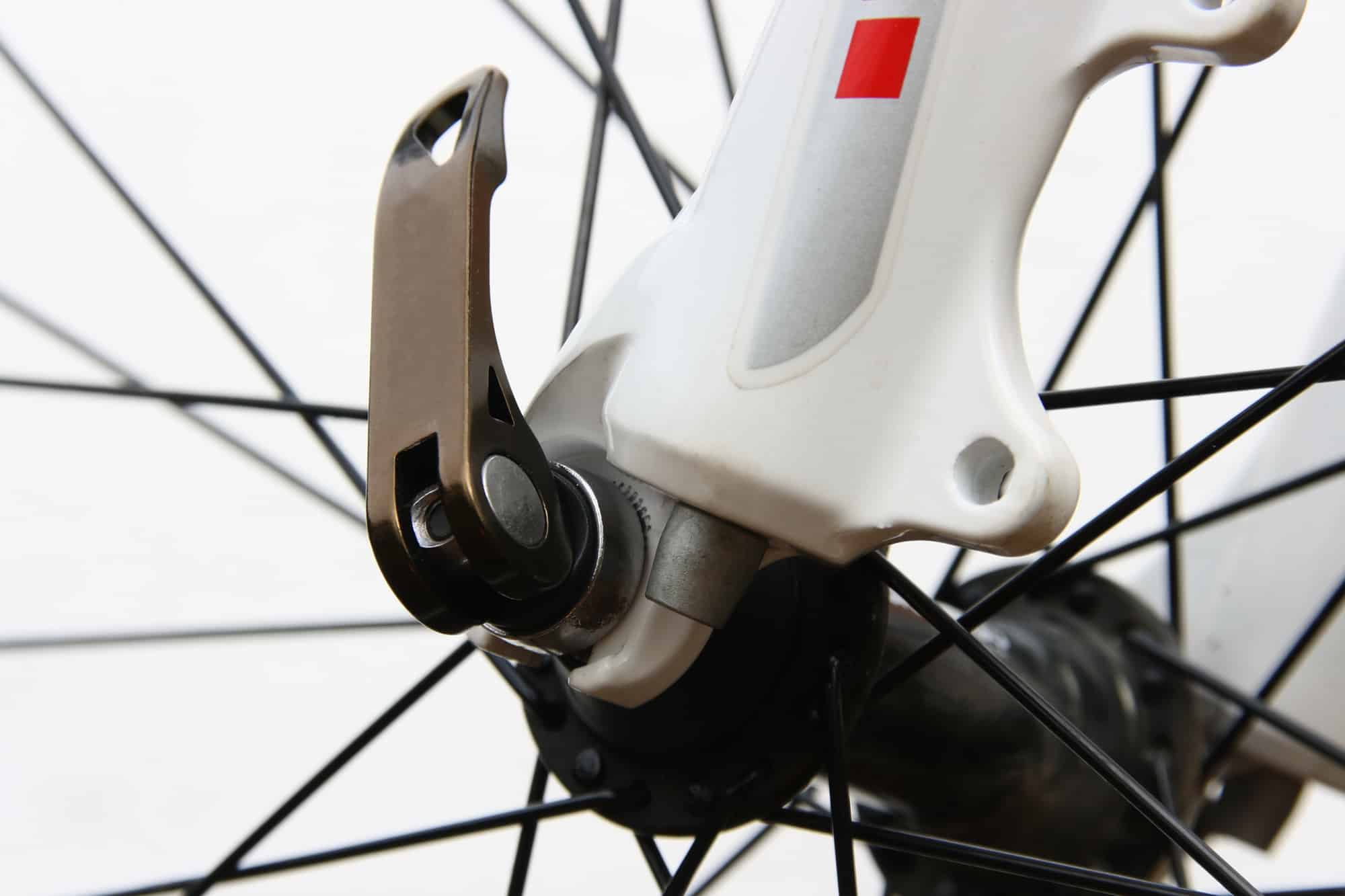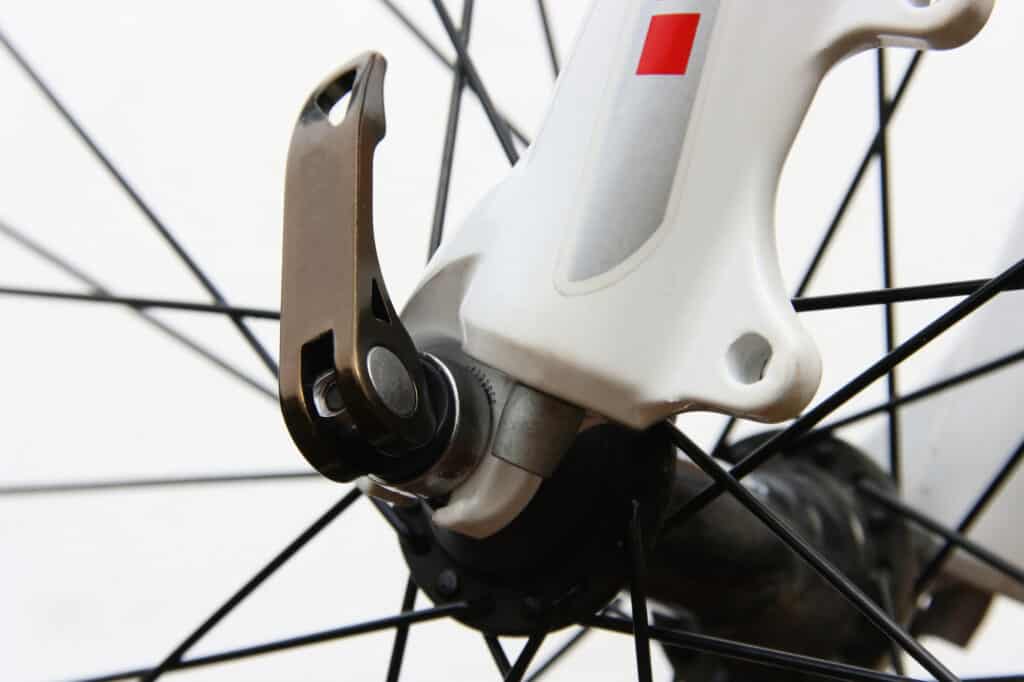 Another good idea would be to take out the front wheel of your bike. Fortunately, most modern bicycles have a quick-release system that makes it easy to remove the front wheel in just a few seconds. All you need to do is unhook the quick-release lever and remove the screws on the front wheel.
Once you've taken off the front wheel, you can lock it to a frame using a cable or chain.
Buy a locking skewer
Most people lock their bikes but forget to secure the wheels. The problem is, if your bike wheels are expensive, they could be jacked by thieves who are looking to sell them for a quick buck. However, you can prevent that from happening by locking your bike wheels using skewers.
If you're on the hunt for the best locking skewer, we recommend this product:
Pinhead bicycle locking skewer set
This Pinhead Bicycle Locking Skewer includes two pieces to secure both the front and rear wheel. Each skewer lock uses a different combination key to improve security.
But what's impressive about the set is that they're long enough to be fitted on wheels with disc brakes. They're also lightweight and durable; the skewers are made out of steel.
Related Posts
10 Best Bike Toolkits 10 Best Saddlebags for Road Bikes
Additional tips when there isn't anything to lock your bike to
Get a GPS tracker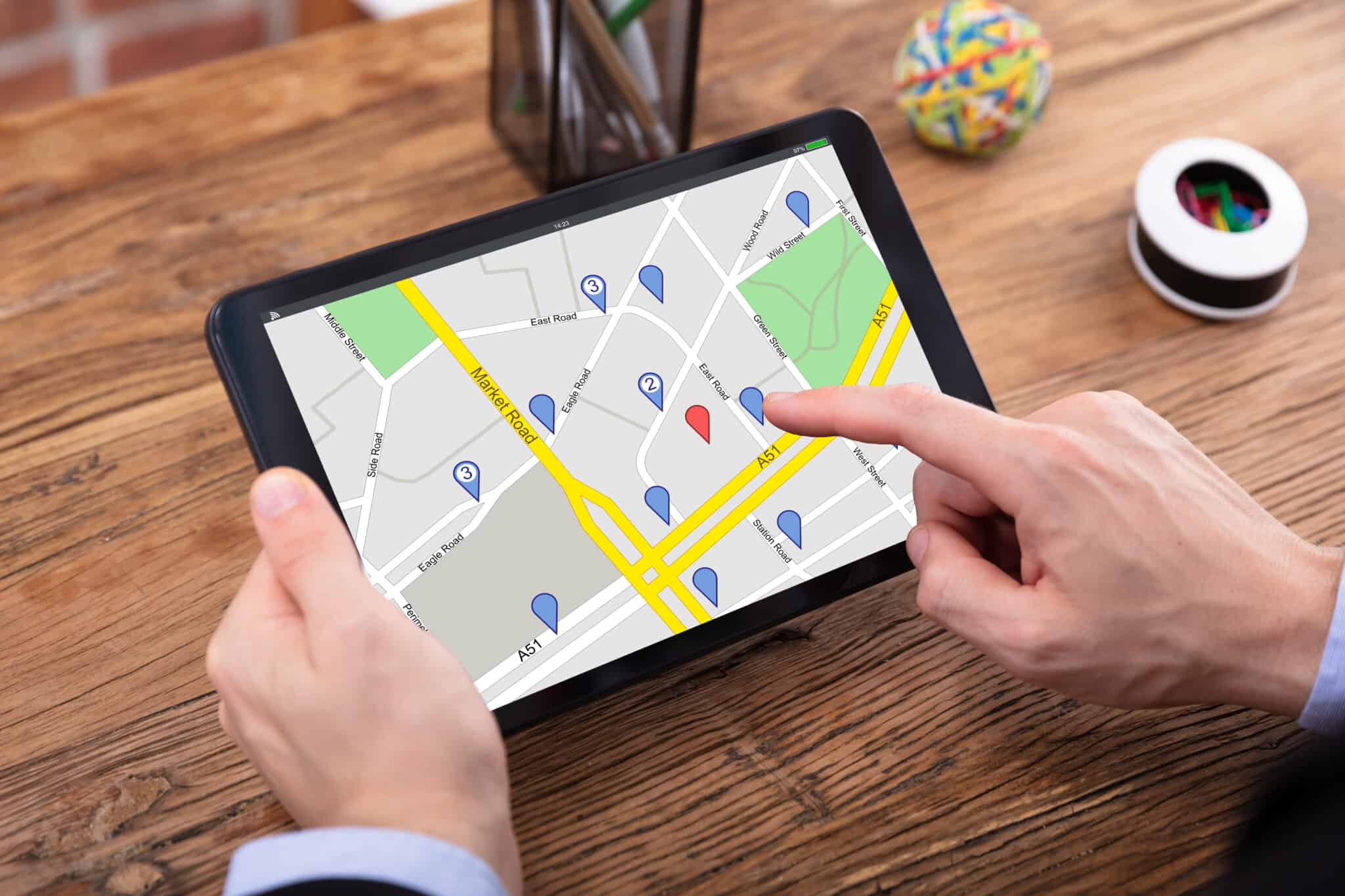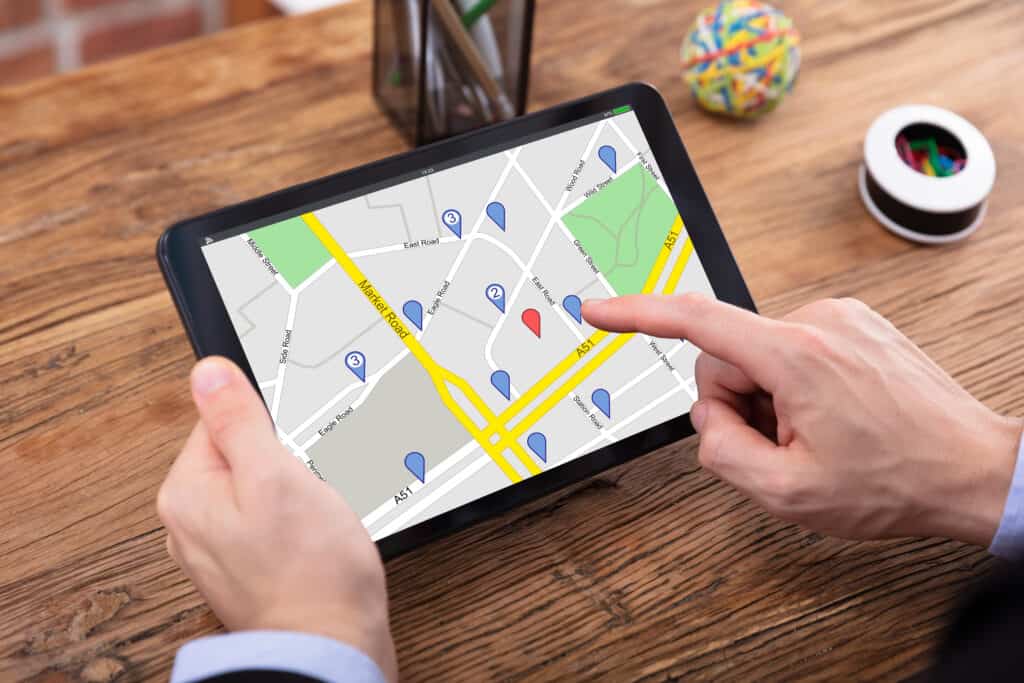 In the unlikely scenario that your bicycle is stolen, you can use a GPS tracker to find it. Most bike GPS trackers are usually hidden in the seat posts, LED lights, downtube, crossbar, and handlebars. In fact, most GPS devices today send a signal to your smartphone application that allows you to see your bike location in real-time.
Alternatively, if you don't mind paying extra, you can buy a bicycle with an inbuilt GPS. But if you don't have a GPS tracker, you should consider the following options:
See Sense Air GPS tracker
This GPS tracker can be hidden under the saddle or water bottle mount. It weighs just 80 grams, and it's too small to obstruct your bike performance; most people won't even notice it.
For what it's worth, it has a battery that can last up to three months without a re-charge. Better yet, you can connect the GPS tracker to your smartphone app and if somebody steals your bike, you will get an automatic alert on your phone.
The GPS device is also designed with a built-in alarm that activates when your bike is disturbed. Other than that, the GPS device can also help you to navigate since it lets you know what to expect en route to your destination.
Find out more about See Sense Air
Galeo – GPS bike tracker
The Galeo GPS bike tracker can be installed just about anywhere on your bike; from the handlebar, water bottle mount, downtube to the crossbar. The device includes a built-in 4G LTE sim card, motion sensor, and an audible alarm.
If somebody steals your bicycle, you will get an exact location of its whereabouts on your smartphone even if you're too far away. This would help the police to track down your stolen bike much faster if it goes missing.
Talking about the battery, it can hold a charge for up to 3 weeks. Also, the device is waterproof and tamper-resistant.
However, this GPS unit doesn't give you voice directions on your smartphone; but it still does a pretty good job to tell you where your bike is.
Lock your bike every time you leave it
It's easy to have a false sense of security, especially when you're in a crowded place. However, you would probably think otherwise if you look at the statistics; a bike is stolen every 90 seconds in the UK, and every 30 seconds in North America. In most cases, the bikes that are stolen are usually left unlocked by the owners.
What should you do to prevent that?
It's simple, just lock your bike every time you leave it unattended. That means, locking your bike not just when it's outside but also in a garage and closed balcony.
It would help if you use two different locks that are hard to crack instead of one lock.
Avoid leaving your bike in crowded or isolated areas
As we've mentioned, parking your bike in crowded places makes it susceptible to theft. Similarly, parking your bike in isolated areas is just as bad, if not worse.
If you're outside, try to find a designated parking spot with CCTV cameras. But if you can't find a spot with security cameras, you should park your bicycle in a clear, well-lit area where you can monitor your bike from a distance.
For those living in apartments, avoid parking your bike outside as much as possible. If you don't have enough space, you can mount your bike on the wall in the living room or bedroom.
Know the serial number of your bike
If your bike gets stolen and you report it to the authorities, the first thing they will ask you is the serial number. Of course, if you had written the serial number somewhere or saved it in your email, that won't be a problem.
Another alternative would be to register or insure your bike using the serial number. For instance, if you're living in the U.K, you can register your bike on Bike Register. Other popular organizations that help with registration are Bike Index (worldwide) and State Bicycle (USA).
However, before you go ahead with the registration process, confirm if there is a public service database offered by your county, state, or national government.
Note: Most bikes have the serial number imprinted under the bottom bracket close to the pedal cranks.
FAQs
Q. Where should I lock my bike if I don't have a bike rack?
A. There are many structures where you can lock your bike if you don't have a rack. For example, you can lock your bike on a tree, post, fence, bench, or railing pole. However, just make sure your bike doesn't obstruct foot or vehicle traffic when you secure it.
Q. How do I lock my bike outside?
A. You can lock your bike outside to a secure structure using a D lock or a chain lock. If you want to make it difficult for thieves to get away with your bike, we recommend using two different bike locks.
In addition to that, don't forget to equip your bike with a GPS device that you can connect with your smartphone. Don't forget to put a locking skewer in your front and rear wheels
Q. How do you lock a bike with nothing to lock it?
A. If you can't find a secure structure to lock your bike, you can remove the front wheel and carry it with you. It would be difficult for a thief to steal your bike without a front tire
Q. Can you lock a bike without a pole?
A. Yes. If you can't find a pole, you can lock your bike to a tree, fence, railing or a bench bolted to the ground. As long as you have a bike lock, you can secure your bike to almost any structure that is hard to move.
Conclusion
In a nutshell, if you want to protect your bike from theft, you need to follow everything we've covered in this article to the letter. That means, investing in good quality bike locks, GPS devices with in-built alarms, and locking skewers.
Besides that, you also need to know how to lock your bike without a bike rack. For instance, you could use a tree, pole, bench, or anything you could find that is secure. If you can't find anything, you can just take out the front wheel of your bike before you park it.
However, sometimes doing everything is not enough and a determined thief could still get away with your bike. That's why it's important to insure your bicycle and register it in case it happens.
Then again, prevention is better than cure.