Introduction
Whether you are an occasional rider or prefer the most strenuous of workouts, one thing you will be looking for is the most comfortable bike seat for women that is possible.
There are hundreds of options out there all claiming to be the most comfortable bike seat for women- but are they?
The truth of the matter is that every woman's shape and every woman's requirement in a bike seat is different but we have looked at reports,reviews of recommendations of some of the best in the cycling world.
What we are looking at today are 5 of the most comfortable bike saddles for women available in the market today
Roguoo Bike Seat
This remarkable bike seat from Roguoo has been described as the most comfortable bike seat in the world! That may be a little over the top but it is certainly a firm (not literally) favorite.
The Roguoo has an outer which is both tear and water resistant, the seat itself has a thick high density memory foam construction which naturally molds itself around the rider and cushions the butt from the severest of bumps.
The Roguoo has a narrow nose that gently transitions to the main seat area reducing the possibility of chaffing and yet providing ample support. It's central hollow provides ventilation and pressure relief. These features make it a most comfortable bike seat for women
The Roguoo has a reflective strip at the back (in an assortment of colors) for additional safety when riding at night or in poor visibility.
Fitting all standard posts(measure before you buy) this seat is an excellent budget seat.
What We Like
Very low price
Ergonomic design
Transitional nose suits most riders shapes
Hardwearing
What We Don't Like
Color strips are a bit garish
May not suit some "Heads Down" style riders
Selle Italia Diva Gel SuperFlow Road Bike Saddle
Selle Italia have been in the business of making bike seats for over 120 years. From the little family firm started just outside Milan, Selle Italia have been at the forefront of saddle making for decades.
The Selle Italia Diva Gel SuperFlow Road Bike Saddle is specifically designed for women using the high spec materials throughout. Fibra-tek microfiber fabric on the outside, carbon composite shell sitting on titanium rails, this is a high end product.
The shock resistant properties of the titanium rails along with gel padding make this saddle one of the most comfortable. It is its design that women find most rewarding, having a center hollow with generous padding to protect soft tissue areas.
What We Like
Designed for women
Best quality materials throughout
Good use of gel padding providing protection to soft tissue areas
Well manufactured with 2 year warranty
What We Don't Like
Not recommended for long distance or endurance cycling
Brooks England B67-S Ladies Steel Bike
Do not be put off by the look of the Brooks England B67 saddle, you may think that you have gone back 50 years but this saddle is undeniably one of the most comfortable bike seats for women out there.
Brooks England have been hand making saddles since 1866 and they still hand make them today from the finest quality vegetable tanned leather.
It would look totally out of place in a velodrome or on the Tour de France but as a tourer or city rider, this could be one for you.
The B67S is designed with a shortened nose for women riders and the big chromed steel springs take the impact out of the deepest ruts. The seat itself is just short of 10" in length and 8" wide at the back. Weighing only 1.75lbs it is surprisingly light considering the materials used.
On first riding the Brooks England you may think you have made a mistake but bear with it. Most riders think that the Brooks England can be anything but comfortable for the first few rides but as you become used to the saddle, the saddle starts molding to your shape.
What We Like Like
Handmade
Best materials used
Traditional design
Iconic Brooks England plate on the seat back.
Great city or touring saddle
What We Don't Like
Takes time to shape to your body
Not built for speed or endurance
Bioflex onGel Athletic
Buy Bioflex onGel Athletic from Chain Reaction Cycles
The Biflex onGel Athletic Women's bike seat is very competitively priced but this doesn't mean that this is a low quality option. Far from it, this lightweight (1lb) is a well constructed piece of kit.
As the name suggests, this seat is more suited for the more adventurous of riders in terms of endurance. The slender design looks good and with the reflective strip on the back gives that added security when riding at night.
It has a synthetic outer cover and a body molding gel inner which although initially firm, does relax and adapt.
What We LIke
Very competitively priced
Sleek athletic design
Comfortable over long distances
What We Don't Like
Needs time to get used to
Bikeroo Oversized Bike Seat
The Bikeroo Oversized Bike Seat is one of the most popular seats in its class, a best seller for the brand with tens of thousands sold all over the world. Although it is not much to look at, it is a well constructed seat using good quality materials and internationally approved manufacturing standards.
The oversized seat measures 10.2"X10.2" which distributes weight evenly, with stainless steel springs taking the shock out of the road, the hollowed center cushions soft tissue areas and provides ventilation.
What We Like
Large surface area distributes weight
Well constructed
Good all round performance
What We Don't Like
Looks "chunky"
No reflective strips for night riding
Things to Consider When buying a Women's Road Bike Saddle
Riding position and type of riding
Many bike saddles are specifically designed for certain purposes, road, endurance, speed, mountain etc. although some are hybrid or generic types. The riding position is tied into the type of riding that you do. If you are happy to trundle along on your daily commute then you don't need a "built for speed" model. Similarly if you are riding long distances, a big thick padded seat is definitely not for you.
Saddle makers nearly always will make gender specific models so always look for this in the name or description of the saddle.
Central groove or cutout
The central groove or cutout in the center of your bike seat is there to distribute weight evenly and to avoid pressure on the soft tissue areas. There is also a belief that this groove helps ventilation and keeps the area cool, although this is often dependent on the rider position.
Mens seats have this design too even though the anatomy is somewhat different.
Although some of the oversized and traditional style seats do not have this groove, most modern designers and riders for that matter, feel that it definitely makes the whole experience more comfortable.
Padding doesn't mean comfort
You may think that the greater the amount of padding, the greater comfort.
Not necessarily the case. Highly padded seats can be more uncomfortable for example if you are a long distance cyclist. If you are cycling over a very short distance, a more padded seat may be for you, probably most important is the seat's ability to distribute weight evenly.
"Spreading the load!" and additional protection of the soft tissue areas is crucial for a comfortable ride.
Get your saddle fitted by a professional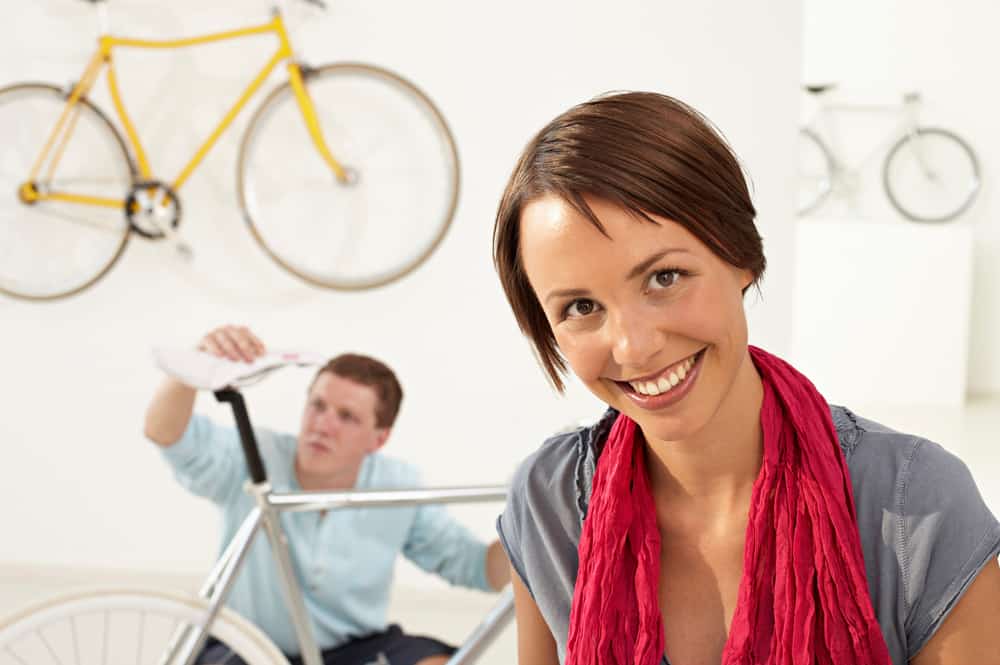 This is really a great tip, the best bike seat in the world will still be uncomfortable if you have not set it up correctly.
Women's Road Bike Saddles FAQs
Q.What is the most comfortable bike saddle for a woman?
A. As we have said many times in this article, much depends on what kind of riding you will be doing but on balance we feel the most comfortable bike seat is the Roguoo Bike Seat
Having all the qualities of build and design that we would expect in a far more expensive seat, this for us is the one.
Q.Are Gel Bike Seats Any Good?
A. Well yes they are! Gel seats are probably more suited for casual riders as they provide good initial comfort whereas memory foam and traditional leather seats take more time to get "accustomed" to your butt.
Q. How can I make my bike seat more comfortable?
A. There are a number of things you can do. The first thing is to look at our article on:-
How to Make Your Bike Seat More Comfortable.
Conclusion
If there is one thing we can say for sure is that everyone is different!
It would be easy to say that our top pick, the Roguoo Bike Seat is the answer to everyone's prayers but of course we cannot say that. We feel that the Roguoo Bike Seat is a great all rounder and very good value for money but you may have different requirements or needs. Whatever seat you choose,make sure to get in touch with your local bike fit specialist and get a professional fitting. That helps every time.
Good Luck.