There is an expected sales figure of one million electric bikes to be sold in the USA in 2022, the Ride1Up LMTD is partly responsible for the increase in sales coming in at a remarkable price and boasting some outstanding features.
Ride1Up is a San Diego CA. based operation founded by Kevin Dugger. Dugger, who is of Dutch descent, started off by buying old bikes, repairing, restoring, and selling them on, with cycling and cycles in his blood the move to manufacturing e-bikes was a natural progression.
LMTD Frame Size
The Ride1Up LMTD is available in ST (Step thru) and the XR (Cross Over).
The ST is suitable for riders in the height range of 5'1" to 6'2", the minimum seat height is 32" and a maximum of 40". The ST can carry a rider up to 275 lbs and weighs in itself at 53lbs.
The XR has a rider height range of 5'6" to 6'4" and a standover height of 29". Again the XR weighs in at 53lbs and can carry riders up to 275 lbs. The Ride1up LMT'D frame is made from a durable aluminum alloy.
Ride1Up LMTD Design Features
The Ride1Up LMTD is literally loaded with some fantastic design features, probably too many to list here but worthy of special mention are:-
MXUS Hub Motor
The Ride1Up LMTD is fitted with a 48V750W Geared MXUS Motor powering the rear wheel.
This MXUS unit can supply 100 Nm of torque, enough to get you and your Ride1Up LMTD up some pretty steep inclines and can give you a power only speed of 20 MPH and a pedal assist speed of 28MPH.
The 48V750W Geared MXUS Motor had a reputation for being a "gutsy" yet smooth and reliable unit.
Tektro Hydraulic Brakes
The Ride1Up LMTD comes with Tektro hydraulic brakes as standard across the range ST and XR.
Tektro are no strangers to the cycling world and their braking system is ideal for the Ride1Up LMTD,as it comes in heavier than a regular tourer.
Shimano Altus Components
I think it's always comforting to see the name Shimano on any bike. Shimano celebrated its 100th anniversary back in 2021, that's pedigree for you.
The Ride1Up LMTD utilizes the Shimano RD-M370 Derailleur, Shimano 8-speed Rapidfire Plus shifters and the Shimano 11-32T cassette.The Shimano derailleur and 8 speed shifters give smooth and positive gear changing from low to high and back, they are in our opinion the best for the job.
Shimano are high-quality products across their range and their addition to the Ride1Up LMTD again shows Ride1Up's commitment to quality from start to finish. We love Shimano components and we have mentioned them on numerous occasions including our Best Hardtail Mountain Bike Review.
LCD Display
This cool little display which measures a little over 3" by a little under 2" clamps to the handlebar and provides a really clear display in all weather and light conditions. The display gives you all the information you would expect, including current speed, average speed, odometer, assist level, and battery power.
Easy to set up, easy to read, it's exactly what the rider needs.
Tires
The Ride1Up LMTD comes with WTB Groov-e 27.5″x2.4″ fitted. The WTB groove is a high-quality urban tire designed with water channeling grooves across the entire tread to aid traction in wet conditions.
The tire has a 60tpi casing to give a more comfortable ride, reduce weight and improve tire performance. The WTB Groov-e 27.5″x2.4″ incorporates a reflective strip that helps visibility to motorists and is a thoughtful inclusion. It's better to be seen, right!
What else is in the box?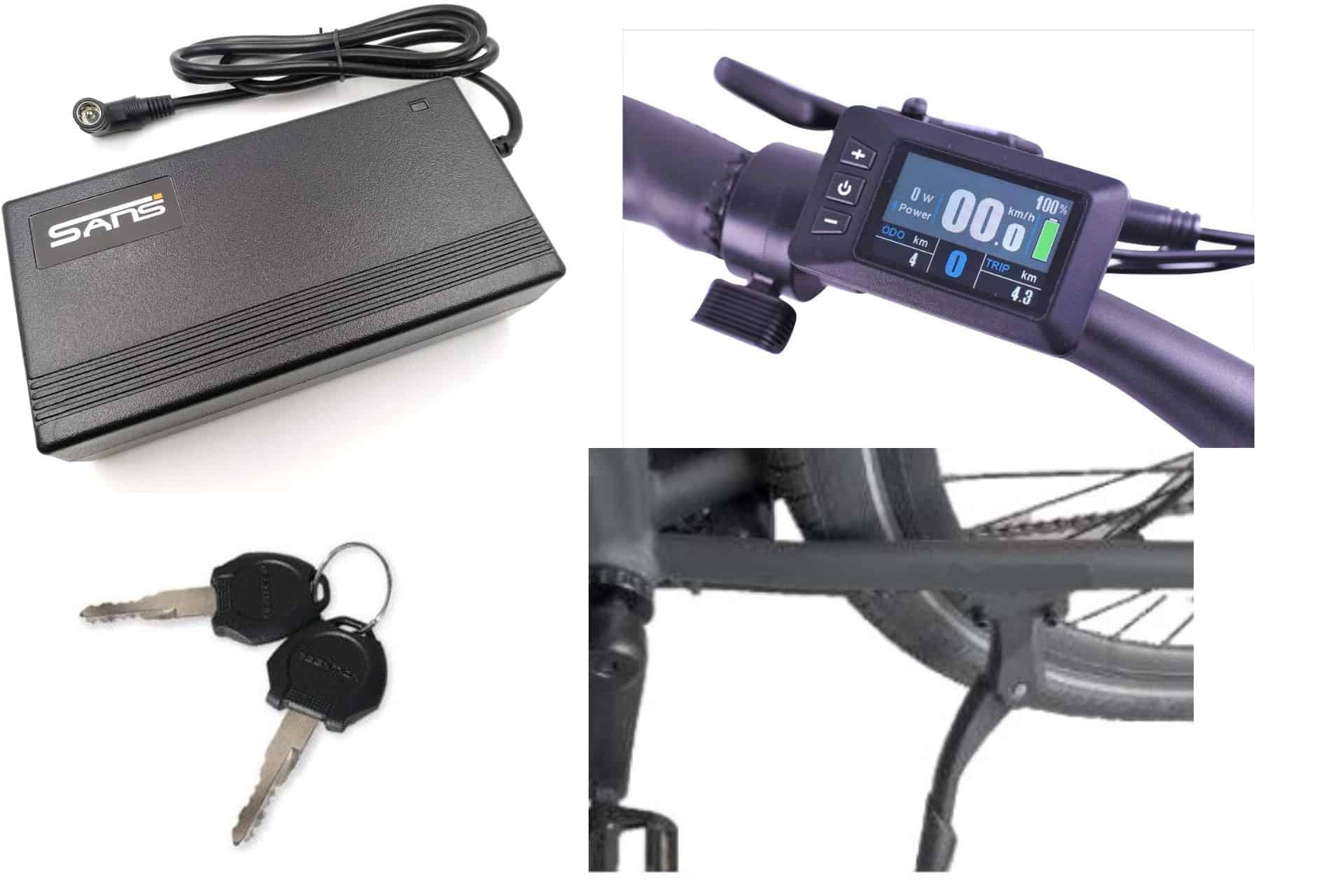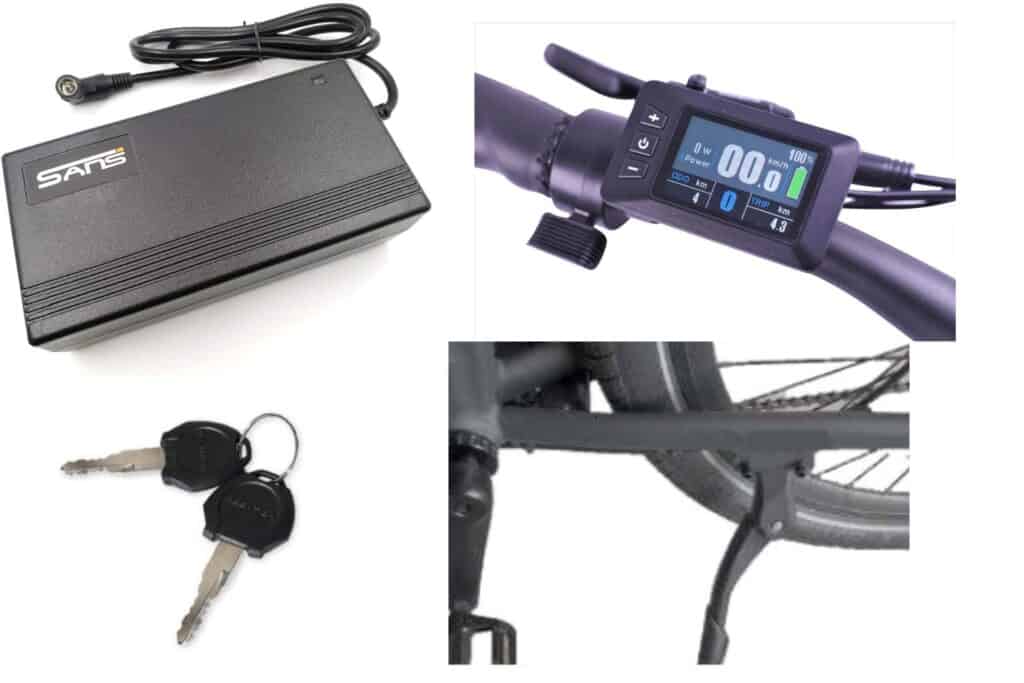 There are a few things that are worth mentioning, firstly there is a charger included in the price. A 2 AMP/48 VOLT is supplied with the Ride1Up LMTD, it comes with a cable and LED display to indicate the level of charge.
The Ride1Up LMTD bike also comes with a battery locking system so that you can unlock and remove the battery for safety, two keys are supplied.
The Ride1Up LMTD also comes with an integrated kickstand.
Assembly
The Ride1Up LMTD arrives 85% completed and is relatively simple to do.
This video from Ride1Up will certainly help you along and you will also find a number of other videos on YouTube.
You can, of course, have your bike assembled by a local professional, in either case whether you get someone to assemble it for you or you do it yourself, your 1 year warranty is not affected. (Subject to normal conditions)
Ride1Up LMTD Performance
The Ride1Up LMTD's overall performance is exceptional.
Ride1Up have chosen their components for this bike exceedingly well, from the Selle Royal seat, through to the Shimano gearing and the Tektro brakes. The quality of components enhance the good-looking aluminum alloy frame.
The star of the show is definitely the MXUS hub motor that powers you quickly to 20MPH (maximum permitted speed for a class 3 E-Bike) and to 28 MPH pedaling.
Theoretically, you can get up to a 50 mile range with the Ride1Up LMTD but in practice, a range of around 30 miles can be expected, which is pretty reasonable for this urban machine.
Depending on the battery state, charging is between 3 and 6 hours from a normal domestic outlet, this again is pretty good and more than adequate for everyday use.
Final Thoughts on the Ride1Up LMTD
A chef will always tell you that a great dish requires great ingredients. The same can be said for the Ride1Up LMTD.  Ride 1UP have made sure that all the components they use are the best for their machine.
They are, in some cases, not the most expensive on the market but the best for the Ride1UP LMT'D. This means that Ride1UP have produced one of the best urban/ light trail hybrid bikes on the market today. 
The Ride1Up LMTD is certainly very comfortable thanks in part to Air Asteria air suspension, the Selle Royal Freeway Plush Gel seat, and the WTB Groove tires. After hours in the saddle, testers were still feeling fresh. 
This machine is perfect for the urban commute, riding into the office, plugging in the battery charger and she's ready to get you back home.
The Ride1Up LMTD is a bike that can be used for commuting or for pleasure, and it is really a pleasure to ride, the responsive motor is there when you need it, and its brakes are smooth and responsive.
The final and probably most crucial aspect to the Ride1Up LMTD is its price, Ride1Up are retailing their LMTD at a staggering $1895.
Comparable bikes with similar specifications are coming in at between 30-60% more expensive. Ride1UP have a sourcing, assembly and delivery system which is second to none. This is why they are able to produce this fantastic bike at such a low price.