It sucks to have a flat tire on a road bike, right? Well, you can fix it by replacing the inner tubes and your tires will be as good as new.
In this post, we're going to discuss the best road bike tubes on the market. These road bike tubes will not only fix a flat tire, but they will also improve your riding performance.
Let's get down to it, shall we?
Best Road Bike Tubes – Our Pick
Sunlite Standard Presta Valve Tubes
Our Pick
This is a Sunlite inner tire tube designed for road bike tires with 700c diameter and a width of 23 to 25 millimeters. It comes with a Presta valve that is about 48 mm long.
Quite interesting, it has a removable core which makes it easy to fix the valve in case it's damaged. Not to mention, it makes it possible to add a valve extender.
Thanks to its extra-thick texture, you can easily ride this tube for at least 500 to 1,000 miles before it starts to wear off.
However, just because it's thick, it doesn't mean it's bulletproof. Of course, it's susceptible to punctures if pierced with a sharp object
Manufacturer Specs
Size: 700c x 23 – 25 mm
Valve type: Presta
Valve type: Schrader
Weight: 136 grams
It's very cheap
It's durable
Made from recycled material
What We Don't Like
Not suitable for wheels that require Presta valves
Summary
A budget-friendly bicycle tube​​ with a Schrader valve and a removable core.
Tubolito Road Tubo Bike Inner Tube
If you thought you had seen lightweight, you would be surprised by this inner tube that weighs only 38 grams. It's so small, you can easily fold it and throw it in your pocket or saddlebag.
The secret behind it is the thermoplastic elastomer material that makes it weigh half as much as most inner tubes on the market, yet it's twice as tough with puncture-resistant technology. Also, the tubolito material is less likely to be trapped under the bead.
Anyway, this product is suitable for 700c road bike tires that require a width of 18 mm to 28 mm. Not to forget, you can choose different Presta valve lengths from 42 mm, 60 mm to extra-long 80 mm.
The only issue seems to be that it's a little bit expensive if you compare it with other inner tubes. Then again, this is no ordinary bicycle tube.
Manufacturer Specs
Size: 700c x 18mm – 28mm
Valve type: Presta
Valve length: 42 mm, 60 mm, 80 mm
Weight: 38 grams
What We Like
Ultra-lightweight
Easy to carry
It can be used on road, gravel, and hybrid bikes
Different valve options
Not easy to puncture
What We Don't Like
Summary
An ultra-lightweight bicycle tube that will make you faster on the road.
Vittoria Latex Tube
For what it's worth, this road bike inner tube is made out of latex rubber that will give you a smoother riding experience. If you didn't know, latex is better than butyl when it comes to rolling resistance performance; so you can bet you will notice a difference on the pavement.
It doesn't let out air easily too, and if you store your tires away from heat, moisture, and UV light, it can last for years. As for the valve, you will get one of those slim Presta valves and you can choose between 28 mm or 48 mm.
It's a shame this Vittoria Latex Tube is not compatible with all road bikes, especially those with 30 mm tires
Manufacturer Specs
Size: 700c x 25mm – 28mm
Valve type: Presta
Valve length: 28 mm, 48 mm
Weight: 82 grams
What We Like
Lightweight
Durable material
Reduces rolling resistance
Removable valve core
Different Presta valve options
Smoother ride experience
What We Don't Like
Not compatible with all road bikes
Summary
A latex rubber tube that will reduce your rolling resistance.
SCHWALBE Bicycle Tubes SV 15
SCHWALBE Bicycle Tubes
SV 15 700x18-25
Presta Valve 40mm
Pack of 5 SV15 tubes
3 tire levers
Buy Now from Amazon
We earn a commission if you click this link and make a purchase at no additional cost to you.
06/29/2022 12:04 am GMT
SCHWALBE is one of the most reputable bicycle parts manufacturers and this product is one of its finest works. It's a premium package that includes 5 inner tubes and 3 tire levers, yet it's cheaper than some products that only include a single tube.
Apparently, it has undergone a rigorous testing process to improve pressure retention and make it difficult for the tube to lose air. In addition to that, it's designed with removable cores which is very helpful if you want to make some adjustments.
On the downside, it's made using butyl which doesn't offer better-rolling resistance than latex. Then again, it's extra-thick and it doesn't tear easily.
Another thing; even though the entire package weighs about 450 grams, each tire tube is about 90 grams.
Manufacturer Specs
Size: 700c x 18mm – 25mm
Valve type: Presta
Valve length: 40 mm
Weight: 90 grams
What We Like
Package includes 5 tubes
It comes with 3 tire levers
Long-lasting pressure retention
Easy to install
Removable valve cores
Extra-thick material
What We Don't Like
Butyl doesn't have lower rolling resistance than latex
Summary
A premium product that includes 5 inner tubes and 3 tire levers.
Continental Race Bicycle Inner Tubes
Continental Race 28
700x20-25c
42mm Long Presta Valve
2 Pack w/ Conti Sticker
Buy Now from Amazon
We earn a commission if you click this link and make a purchase at no additional cost to you.
06/29/2022 02:11 am GMT
These Continental race bicycle inner tubes are made using butyl tubes and that's a good thing if you have carbon rims; remember, latex is not suitable for carbon rims. Besides that, the package includes 2 inner tubes for both tires.
You want to fix the valve in case it's broken? No problem, it comes with a removable core. Of course, if the 42 mm Presta valve is not enough, you can easily attach a valve extender.
What's more, the tube is extra-thick and surprisingly lightweight for butyl material. Our only concern is that it can be a little challenging to install and you have to be careful not to spoil it.
Manufacturer Specs
Valve type: Presta
Valve length: 42 mm
Weight: 115 grams
What We Like
It's compatible with carbon rims
Extra-thick material
Very durable
Low rolling resistance
It doesn't bulge or deform
Removable valve core
Low budget
What We Don't Like
It can be challenging to install
Summary
If you have a pair of continental road bike tires, these tubes will complete the set-up
Goodyear Black Presta Valve Tubes
If you have 35 mm width road bike tires and you're stuck in limbo since there aren't many options in your category, this could be what you're looking for. The width can be stretched to 43 mm if you have a hybrid bike tire.
For a low-budget Goodyear tube that includes 2 tire levers and a 48 mm Presta valve, this is a bargain. Moreover, it's one of those tubes that don't lose the air pressure inside unless you unscrew the tip.
There is just one thing though; it's heavy and it's not compatible with road bikes that have very narrow tires.
Manufacturer Specs
Size: 700c x 35/43 mm
Valve type: Presta
Valve length: 48 mm
Weight: 235 grams
What We Like
Tire levers included
Extra-thick material
Removable core
It can be used on road and hybrid bikes
High-pressure retention
Low cost
What We Don't Like
It's not compatible with some road bike rims
Summary
A durable tube that can be used for both road and hybrid bikes.
Michelin A1 Airstop Road Inner Tube
The Presta valve on this Michelin A1 Airstop Tube is 52 mm, hence longer than average; that means it will fit most road bikes with different rim designs. Also, it's fitted with a reinforced valve stem which makes it easier to attach the pump head securely.
Talking about the material, it's made using butyl rubber and it performs beyond expectations to make it one of the most puncture-resistant inner tubes on the market. By trying to cut as much weight as possible and improving the air flexibility, the manufacturer made it less than 100 grams.
Another thing; if you want, you can add sealant to make it last longer. However, it can be difficult to repair in case it gets a puncture.
Manufacturer Specs
Size: 700c x 18 – 25 mm
Valve type: Presta
Valve length: 52 mm
Weight: 98 grams
What We Like
Puncture resistant
Lightweight
Long Presta valve
It doesn't leak air
Reinforced valve stem
Easy to install
What We Don't Like
It can be difficult to repair
Summary
A puncture-resistant Michelin inner tube that is easy to install.
KENDA Road Bicycle Tube
Kenda Road Tube
700C
48mm Presta valve
.87mm wall thickness
Molded tubes
Smooth valve
Buy Now from Amazon
We earn a commission if you click this link and make a purchase at no additional cost to you.
06/29/2022 12:04 am GMT
One thing is for sure; you won't find many bicycle tubes for road bikes with a 0.87mm thick wall like you would on the Kenda unit. It's also molded to improve the quality and durability.
Other than that, it will fit any 700c road bike tire with a width of 23 mm to 25 mm. The best part is that it retains air pressure and it's less likely to stick out on the beads. Besides that, it's easy to install.
We've noticed that it's a little bit overweight in comparison to other inner tubes. Nevertheless, it compensates for that by its extra-thick wall.
Manufacturer Specs
Size: 700c x 23 – 25 mm
Valve type: Presta
Valve length: 48 mm
Weight: 126 grams
What We Like
Extra-thick wall
Budget-friendly
It retains pressure
Compatible with most road bikes
Easy to install
What We Don't Like
Summary
If you're looking for a molded tube with extra-thick walls, this could be a good option
What is a Road Bike Tube and Why Would You Use It?
Admit it! You don't really think about what's inside your road bike tires until you have a puncture.
Well, if you get down to the nitty-gritty and dissect the tire bead like a surgeon, you will see an inner tube made out of rubber and fitted with a valve to pump it up with air. In other words, it looks like a long doughnut made out of rubber that can be inflated or deflated like a balloon.
It does make all the difference; the inner tube will reduce your rolling resistance and make it easier to cycle your bike. If it wasn't for those inflated "rubber doughnuts", it would be very difficult to push your road bike forward without feeling like you're using all of your energy. Not to mention, a good quality inner tube will protect your tire rims.
Of course, if you're using a road bike, you will need something that is at least 700c or 650b in diameter size.
Road Bike Tire Types
Clincher
Clinchers are the most popular type of road bike tires on the market for a reason; they're cheap and easy to mount or fix.
A typical clincher tire features an inner tube that is fixed between the rim and tread casing. In case you have a puncture, you can patch the tube or replace it.
On the downside, clincher tires tend to be heavier than other types of tires; although, thanks to modern technology, we now have high-end clincher tires on road bikes that are ultra-lightweight.
Tubeless
As the name suggests, tubeless tires don't have a tube inside. Actually, it does look like a normal clincher tire that is attached to the wheel; the only difference is that when air is introduced to the tire, a sealant is used to plug the holes and splits.
Because of the sealant and lower tire pressure, tubeless tires rarely get a puncture. Even if they do have a puncture, the sealant can quickly fix it while it's on the move to prevent a flat.
Besides that, tubeless tires can take your traction, comfort, and control to the next level. However, they're usually expensive compared to clincher tires and better adapted for mountain and gravel bikes than road bikes.
Tubular
Tubular tires are designed with an inner tube, but it's stitched into the tire. Also, tubular tires are usually attached to the wheel using a special tape or glue; that means, even if you have a flat, the tubular tire will stick to the rim.
As for the benefits, tubular wheels are lighter than clincher and tubeless wheels since they don't require ridges to hook the tire beads. Not to mention, tubular tires offer low rolling resistance and improved comfort.
Nevertheless, since the inner tube is not separate from the tire, it can be a pain in the 'you know what' trying to fix a flat tire. For starters, you can't just replace the inner tube as you would in a clincher tire; you need to swap it with a different pre-glued tubular tire.
As if carrying another spare tire isn't too much work, it would be another headache to remove the glued tubular off the rim using your bare hands. Moreover, tubular tires are more expensive compared to clinchers and tubeless tires.
It's just not practical for the recreational rider, but if you're a professional rider, it would make sense due to the high-performance advantages.
Things to Look for In a Good Road Bike Tube
Rolling Resistance
If you're a bike enthusiast, you've probably heard about how rolling resistance can make a big difference when riding. In essence, rolling resistance is the friction that slows down your tire when it's rolling on a surface.
As it goes, the deformation of a tire causes energy to be lost when the tire is rolling across the surface; just like friction between the tire tread and road surface. What you should be aiming for is a road bike tire and inner tube that reduces rolling resistance as much as possible.
Make no mistake about it, the factors that influence rolling resistance include; inflation pressure, rubber material, tread pattern, and tire width.
If you think about it, road bike tires have almost the same characteristics such as 80 to 130 psi recommended inflation pressure, smooth tread pattern, and narrow tire width; so that means it's the rubber material that makes the biggest difference when it comes to rolling resistance.
For the inner tube material, we've noticed that natural latex rubber offers lower rolling resistance than synthetic butyl rubber. It's not that inner tubes made out of synthetic butyl rubber are bad per se, it's just that latex rubber has better air flexibility.
Then again, if you get lightweight butyl tubes, you probably won't even notice the difference when compared to latex tubes. What's more, latex inner tubes are not the best option if your bike is designed with carbon fiber rims.
Resistance to Punctures
If you haven't gone tubeless, you can reduce the probability of a puncture by choosing inner tubes that are infused with sealants. In such a scenario, if a sharp object like a thorn or a glass penetrates your tube, the liquid will seal the hole; but don't expect it to properly close up a puncture hole that is longer than 3mm across.
Otherwise, if your tires don't already come with the sealant inside, you can add it yourself. Just be extra careful you don't block the valve with glue and make it difficult to inflate the tube.
Beyond that, it's true that sealant adds weight to your tires, but does it really matter if you're going to prevent flats?
Of course, the best road bike tires include a thick layer of latex or butyl rubber inner tube and an anti-puncture liner under the tire tread.
TPI
Here is something interesting; there is a casing composed of nylon threads sandwiched between the rubber layers in your bicycle tire. Those threads affect the performance and durability of your tires.
In retrospect, TPI means 'threads per inch' and it's a count of how many threads of nylon are encased in your rubber tire per every square inch. So which one is better for a road bike tire?
A higher TPI denotes that the tires are lighter, more flexible and they can easily deform on surfaces; in short, they perform better. On the other hand, lower TPI tires will have thicker threads with more rubber which makes them heavier and more sluggish; they're more durable with better puncture resistance.
Most standard mountain bike tires will be on the low side of the spectrum with at least 60 TPI casing since they're built for endurance. However, if you're looking for a road bike tire that is performance-oriented and could do well in tarmac racing, you should go for 120 TPI.
Weight
As a general rule, you should aim for the lightest tire weight on a road bike. Lighter tires are easier to spin up, which gives you a competitive edge on a road bike.
Most road bike tires will weigh about 175 grams to 375 grams; with the tire tubes inside. If you're into city riding, you ought to get something that is about 200 grams to 300 grams.
On the other hand, if you're into speed racing on smooth tarmac, ultra-light tires that are less than 200 grams should do the trick.
4 Things to Consider When Buying a Road Bike Tube
Size of Tire
Before buying an inner tube, the first thing that you need to consider is the diameter and width of your wheels.
What do we mean? If your road bike is fitted with 700 c wheels, you should choose an inner tube specified for 700 c wheels. The same case applies if your road bike comes with 650 b tires.
Next, you should consider the width of your tire; which is the stretch of your tire in millimeters after it's inflated. However, the width measurement doesn't need to be exact as the diameter.
To put it into perspective, you could have an inner tube that fits a 700c wheel but the width could range from between 20mm to 25mm depending on how you inflate it.
Otherwise, before you buy a tire tube, you may see something like 700c x 20 – 25 mm. The first number denotes the diameter and the second part is the width range; although, it could also be inches. Just make sure you choose the one that fits your wheels.
Valve type
If you choose the wrong type of valve on a bike's tube, it won't fit the valve hole in your wheel's rim. For that reason, you should choose a tire tube with a valve that is compatible with your bike's wheel.
There are two common types of valve stems; Presta and Schrader. There is also a third type called Woods or Dunlop, but it's very hard to find it especially in the U.K or U.S.
Anyway, Schrader valves resemble the valves on your car tires; they're short and sturdy with a spring-loaded core. Due to its design, Schrader valves are easier to inflate and deflate.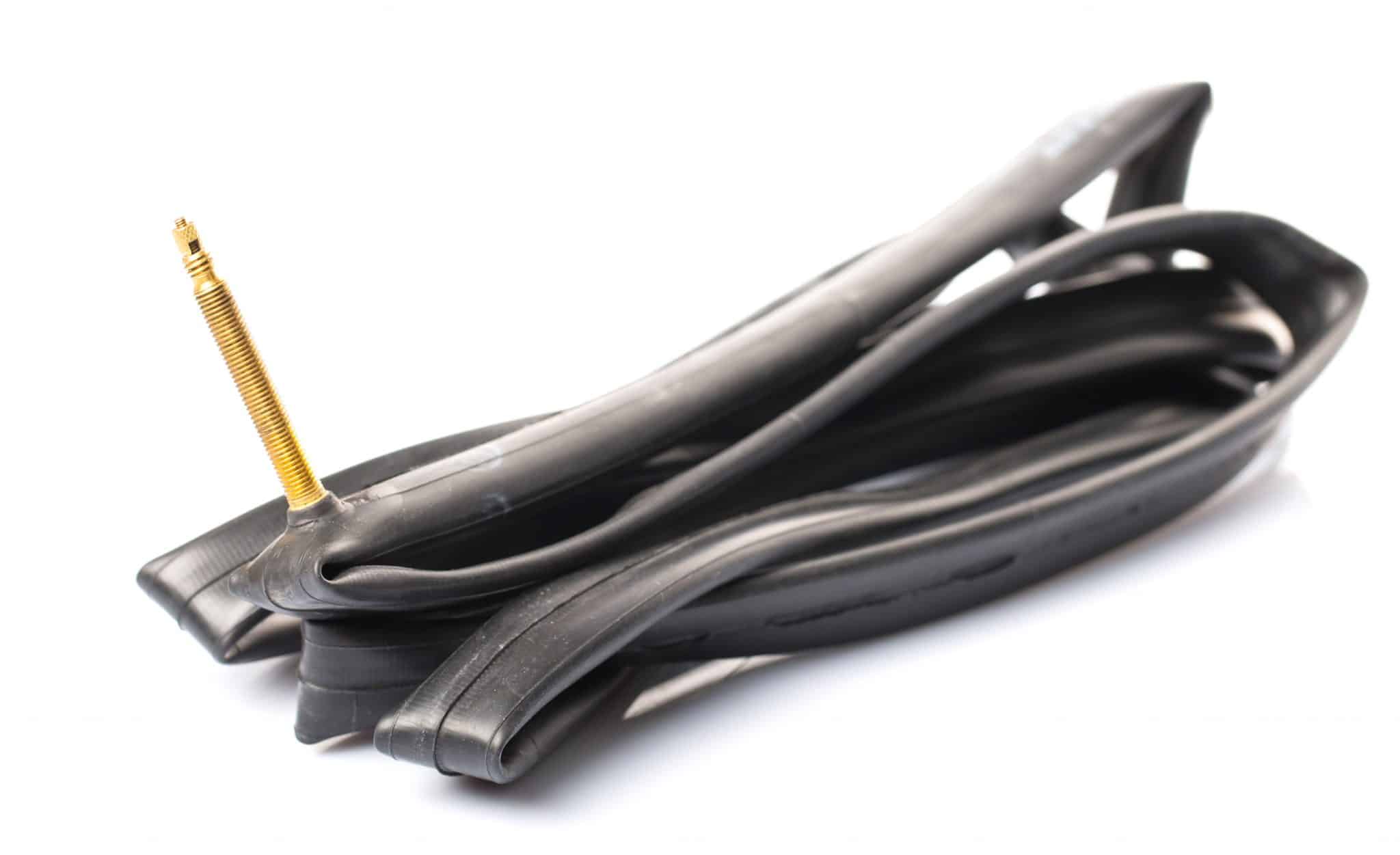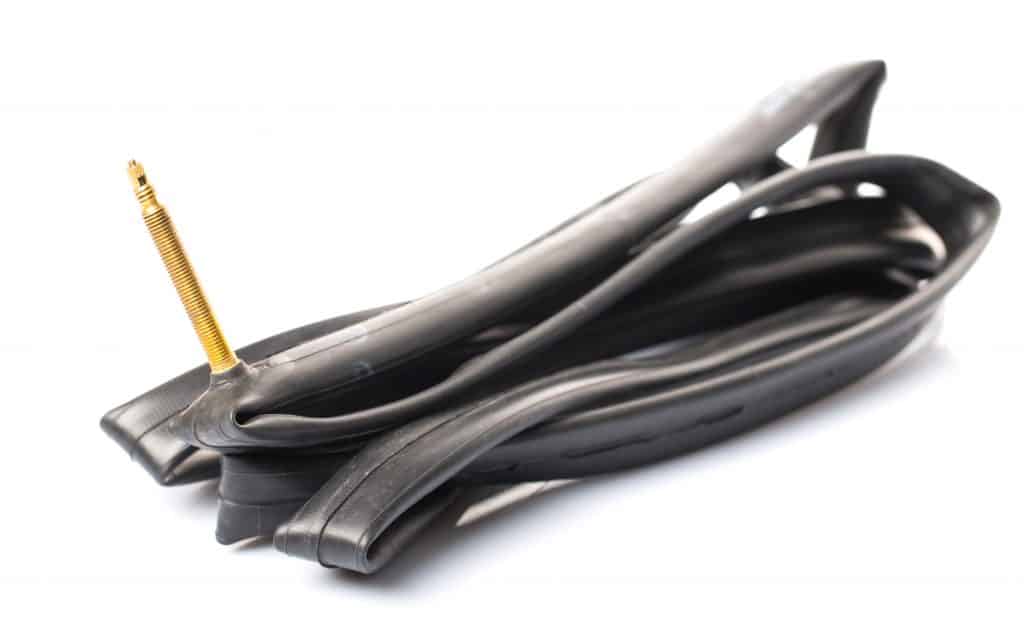 Unlike Schrader, Presta valves are longer with a very slim stem; hence they're better suited for bicycles with narrow rims. Besides that, Presta valves are designed with a screw at the tip which needs to be removed to pump in the air.
Additionally, some tire tubes with Presta valves are fitted with a removable core. That means you can replace the part that lets the air in (the core) when it's damaged.
Valve length
The last thing you want is to buy a tire tube and find it too hard to pump because the valve is not long enough to pass through the rim. Because of that, you have to make sure you get a tire tube with a valve length that is at least 1 cm longer than the rim's depth.
Fortunately, we have a tube with Presta valves that are available with a length of up to 80 millimeters. Nevertheless, if your wheels are too deep and you can't find the appropriate tire valve length, it's possible to use valve extenders to sort out the problem. The valve extender can be screwed to the tip of your inner tube valve.
Weight and Thickness
Just one more thing; if you're just shopping for a bicycle tube for your road bike, most units will weigh about 55 grams to 100 grams. Remember, we're talking about the tubes here and not the entire tire.
Just like tires, ultra-lightweight tubes will give you an advantage especially if you're racing.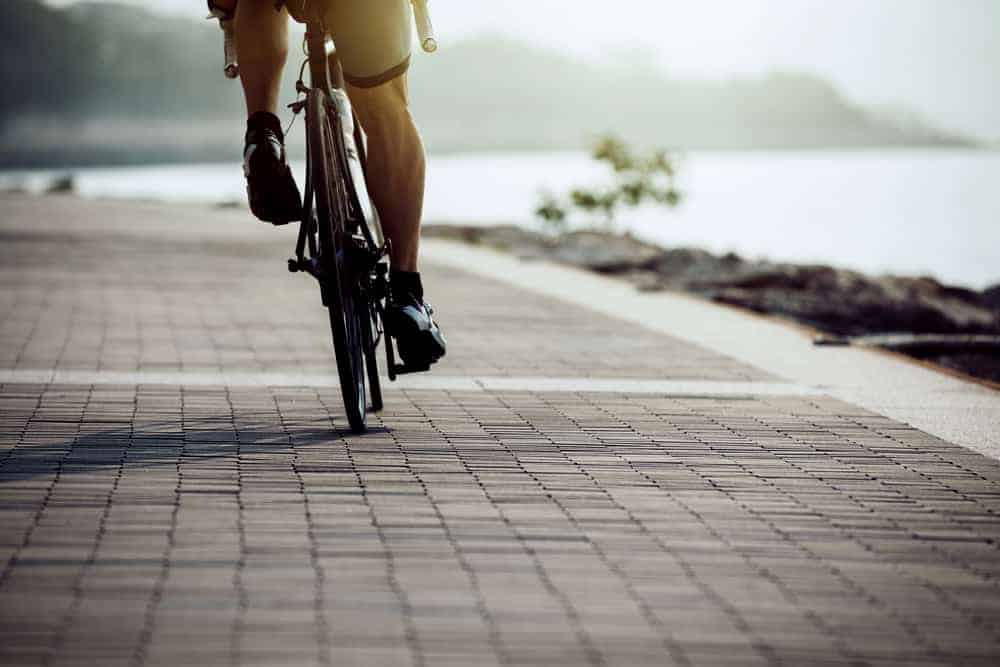 Road Bike Tube FAQs
Q. Why do bikes have inner tubes?
A. Bikes have inner tubes so that it would be easier to replace them in case of a puncture.
Q. What are the best inner tubes for road bikes?
A. All the inner tubes we've reviewed in this guide are considered some of the best inner tubes for road bikes.
Q. Do road bikes use Tubes?
A. Yes, most road bikes use inner tubes. However, we have road bikes that use tubeless tires.
Q. Is it worth repairing inner tubes?
A. It depends on the damage; you can either repair or replace it. Regardless, most inner tubes are cheap to repair or replace. If you can't locate the puncture straight away, pump up the tube and place it in water. Then you will see air bubbles escaping.
Q. How long do road bike inner tubes last?
A. Road bike inner tubes can last for many years (even a decade) if installed and stored properly. Just make sure to store your road bike tires away from excess heat, humidity, and UV light.
Q. Do bike inner tubes go bad?
A. Yes, inner tubes can deteriorate if they're exposed to heat, humidity, and UV light. Also, if a sharp object pierces your inner tube, you could have a flat.
Q. Which is better: Presta or Schrader valve?
A. Presta valves are considered better for road bikes than Schrader valves.
A Schrader valve stem has a larger diameter so they're more robust and less prone to bending or damage than a Presta valve.
However, the type of valve that you use doesn't make a big difference when it comes to overall performance.
Q. Can you put sealant in inner tubes?
A. Yes, you can put sealant in inner tubes but you have to be meticulous to avoid blocking the valve.
Q. Can I use bigger inner tubes?
A. No, generally you have to be sure that the inner tube corresponds to the exact size of your wheels in diameter and width.
It is safe however, to use the next size up on small tires. Some cyclists do this to avoid flats. But your wheels will feel heavier than normal.
Q. What size inner tube do I need for 700x38c?
A. For a 700x38c size, you have to choose an inner tube with a diameter of 700 millimeters and a width of at least 38 millimeters.
Q. Does inner tube width matter?
A. Yes, the inner tube width matters when it comes to speed performance. Most road bikes have an inner tube width of 20mm to 32mm.
Conclusion
In a nutshell, the best inner tube depends on the diameter and width of your road bike tires. As long as you choose something compatible, you won't have a headache trying to find the right fit.
Our recommendation for the best road bike tube is the Sunlight Standard Presta valve tube as it is very durable for the price.
Otherwise, all the bicycle tubes we've reviewed can increase your speed, improve your riding comfort, and last for years without tearing or wearing out. Choose wisely!