The 5 Best CO2 Inflators in 2021
Experiencing a flat tire as a bike rider is a guarantee if you ride long enough; even if you let your bike sit idle in the garage, you can't evade it.
Usually, there are two options to go about it. Get a traditional hand pump that takes too long to restore your tires or use a CO2 bike inflator the size of your hand and bring your tires back to life in a matter of seconds.
Not to mention, CO2 inflators are the best option for tubeless tires that require high PSI of pressure.
So which is the best co2 inflator on the market?
In this article, we're going to discuss which bike inflators fit the bill.
These cool tools will help you to inflate your bicycle tires in just a few seconds.
Let's have a look, shall we?
LEZYNE Control Drive CO2 Bicycle Inflator
This kit from Lezyne includes a CO2 bike inflator and a 16-gram threaded cartridge; although it can also hold a 20-gram threaded cartridge. Anyway, the bicycle inflator is made out of high-quality aluminum material and coated with brass to improve durability.
Besides that, it weighs only 3.2 ounces or about 90 grams which makes it convenient to carry in your saddlebag or pocket. More impressive, it's designed with a sleek control knob that lets you control the pressure when inflating the tires.
Did somebody say 'cold burn'? Well, you don't have to worry about that since the canister is wrapped with fabric to prevent your fingers from sticking on the surface when inflating the tires.
It's a shame this co2 tire inflator is not compatible with non-threaded cartridges. Then again, the market is flooded with threaded cartridges.
Manufacturer's Specs
Compatibility: Threaded
Wrapped: Yes
Dimensions: 3 x 5 x 2 inches
Weight: 3.2 ounces
What We Like
Durable material
Easy to use control knob
Instant inflation
It comes with a cartridge
Budget-friendly
What We Don't Like
Not compatible with threaded cartridges
Summary
In our opinion – the best co2 bike pump. A small and lightweight low budget CO2 inflator that comes with a threaded cartridge.
Fabric C02 Bicycle Tire Lever Tool Kit
Here is the cool thing; this CO2 inflator kit comes with two tyre levers and a spare cartridge. That means, if you get a flat tire, you will have everything that you need to get back on the road except patches or a new tube.
Since the temperature will drop to freezing point when you release the compressed gas inside the cartridge, the kit is covered by a rubber strap to make your hands comfortable.
But it's most alluring feature is that the tire levers can be attached to create a body that could hold a non-threaded cartridge. In case you're wondering, you can also screw a threaded cartridge to the inflator head.
What's more, it includes a precision control tap that makes it possible to shut the cartridge and use it another day.
There is just one problem; it's a little bulky compared to other types of CO2 bike inflators available. Despite that, you can still fit it in your pocket or seat bag.
Manufacturer's Specs
Compatibility: Threaded/Non-threaded
Wrapped: Yes
Weight: 116g
What We Like
It comes with reinforced tyre levers
Low budget
Kit includes a cartridge
Multi-compatibility
Fitted with pressure valve
It's durable
Rubber strap to place fingers
What We Don't Like
Summary
A CO2 tire inflator tool kit that includes two tire levers and a 16g CO2 cartridge.
Innovations Air Chuck Elite Inflator
This inflator kit comes with two cartridges; a 16 gram and a 20-gram threaded gram threaded cartridge. Both cartridges are enough to inflate road bike tires that require up to 130 PSI.
The application is straight-forward and you only need to push the head into the tube valve to release the compressed gas. Sure, it doesn't come with a pressure tap but if you want to stop the airflow, you can release the inflator head.
Otherwise, it's made up of a durable aluminum metal alloy that doesn't break easily. Its biggest disadvantage so far is that the canisters are not wrapped to prevent a finger sore; you need to wear gloves when handling it.
Also, if you've opened and used half of the cartridge CO2 gas, you can only store it for about a month.
Manufacturer's Specs
Compatibility: Threaded
Wrapped: No
Weight: 5.6 ounces
What We Like
Easy to use
It comes with two cartridges
Small and lightweight design
Durable material
Lifetime warranty
Compatible with any brand canister
What We Don't Like
No safety latch or wrapping
Summary
One of the best road bikeCO2 kits with two cartridges that can inflate up to 130 PSI.
Pro Bike Tool co2 bike tire inflator
At first glance, you would probably confuse the Pro Bike Tool CO2 inflator with a mini-pump; that's because it's designed with a storage canister that lets you put the cartridge inside. Well, it solves the problem of gas leakage during inflation.
Actually, it's possible to attach both threaded and non-threaded CO2 cartridges inside the canister. Just so you know, it's only compatible with 12 grams and 16-gram cartridges.
Like the best bike CO2 inflators, this unit is compatible with both Schrader and Presta valves. Besides that, you can even use it on valves with removable cores; but you have to be careful not to waste the content.
What else? It's fitted with a lever on the inflator head to regulate the pressure.
Unfortunately, this tool kit isn't shipped with complementary CO2 cartridges. But on the bright side, it's budget-friendly.
Manufacturer's Specs
Compatibility: Threaded/Non-threaded
Wrapped: Yes
Weight: 2 ounces
What We Like
Canister for safe storage
Small, compact, and lightweight design
No leaks
Control lever to regulate pressure
Fits both threaded and non-threaded cartridges
Compatible with Presta and Schrader valves
What We Don't Like
It doesn't come with CO2 cartridges
Summary
Pro Bike Tool CO2 inflator is one of the safest CO2 inflators on our guide.
BriskMore Black CO2 bike pump
How about a CO2 inflator that weighs less than an ounce? The Briskmore's small too, and it can easily fit into your pocket or saddle bag; just make sure you don't misplace it.
Don't underestimate it though, it's made of both aluminum and steel alloy to enhance durability. Despite its small size, it can inflate your road bike and mountain bike tubeless tires faster than a mini-pump.
Talking of compatibility, it will fit both Presta and Schrader tire valves. Not to mention, it comes with a rubber foam sleeve to protect your fingers during operation.
For what it's worth (and it's cheap), it can fit 12, 16, 20, and 25 grams CO2 cartridges. Its biggest weakness seems to be that it doesn't have a tap or a lever to easily control pressure.
Manufacturer's Specs
Compatibility: Threaded
Wrapped: Yes
Weight: 0.75 ounces
What We Like
Ultra-lightweight and minimalism design
Compatible with Presta and Schrader valves
Durable material
It includes a rubber foam sleeve
Easy to operate
Low budget
What We Don't Like
Summary
The Briskmore is a low budget CO2 bike inflator that can fit most cartridge sizes.
What is A co2 Inflator, and Why Would You Use It?
A CO2 inflator is a simple tool that is used to inflate tyres with precision and speed. It consists of a nozzle or an inflator head and a cartridge filled with compressed carbon dioxide gas.
If you attach a CO2 inflator to the inner tube valve hole, the gas will be released from the cartridge into the tyre at a high pressure to inflate it in a few seconds.
But why would you use it?
For starters, most bike CO2 inflators are very small and they can easily fit in your hand. Better yet, you won't have a problem trying to store a CO2 inflator in your pocket or saddlebag.
Also, CO2 inflators are very efficient; they inflate the tires very quickly with a pressure of up to 130 PSI.
Even if one canister runs out, you can easily replace it with another canister.
Simply put, CO2 tire inflators are convenient and time-saving tools that can inflate your tires quicker than you can say 'Jack Robinson'.
CO2 inflators and canisters pros and cons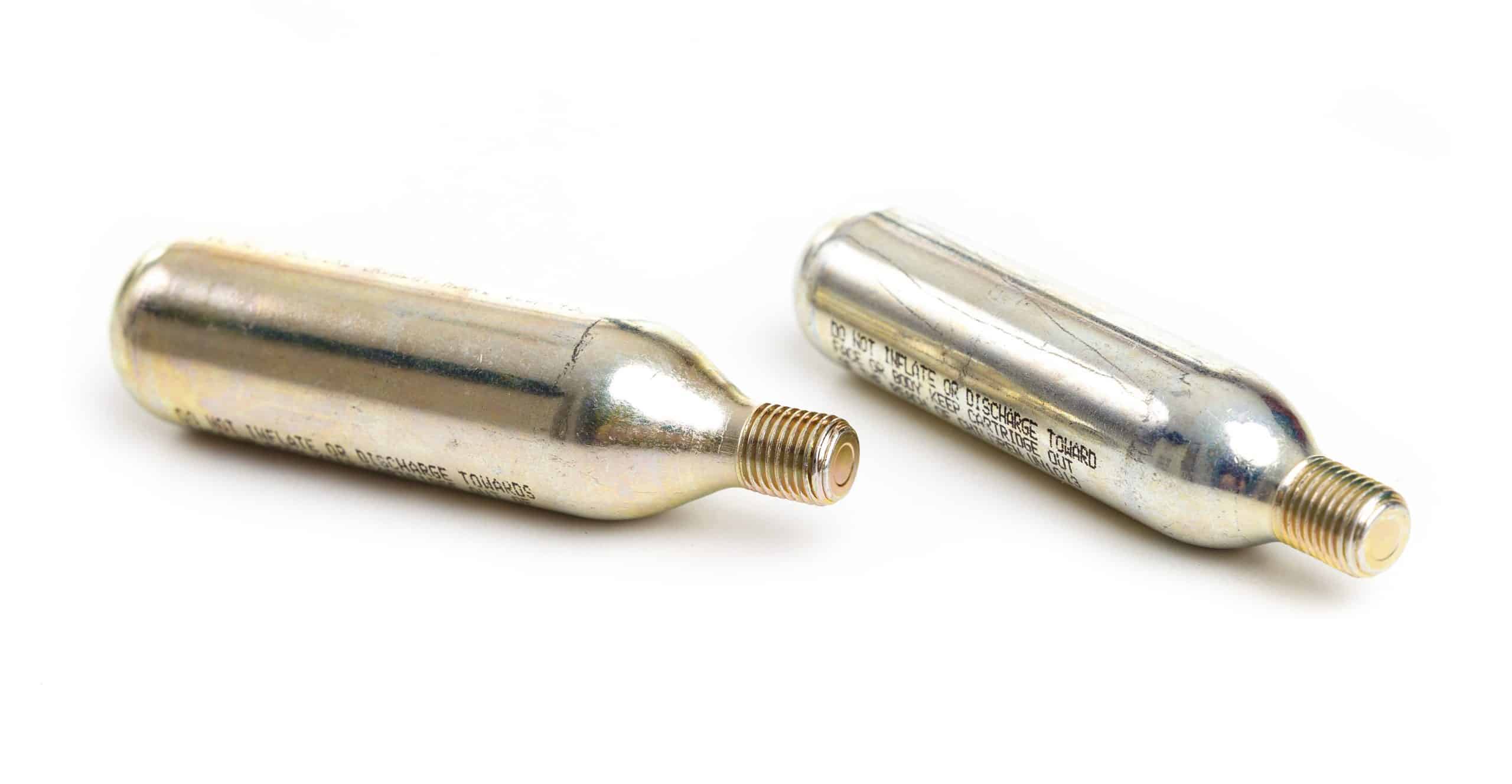 CO2 inflators and canisters pros
They're small and lightweight. Most CO2 bike inflators and cartridges in the market are small and ultra-lightweight with a compact design.
In fact, most inflators and canisters that are sold as a unit weigh less than 6 ounces or 170 grams; that makes them easier to carry in your pocket or seat bag.
Faster Inflation: Unlike a hand pump, a CO2 inflator will fill up your tire in just a few seconds. Because of that, professional bike racers prefer to use CO2 inflators and canisters to fix a puncture.
Easy to use: To use a CO2 inflator, all you need to do is attach the nozzle to the valve stem and release the compressed CO2 in the cartridge. In less than a minute, the CO2 inflator and canister will restore your flat tire.
CO2 Inflators and Canisters Cons
Non-reusable. The cartridges that come with CO2 inflators are non-reusable. That means, if you use it once, you can't use it again if you get another puncture.
However, you can carry multiple cartridges as a back-up option.
Recurring expenses. Since the cartridges are non-reusable products, they're a recurring expense; although, they're not that expensive.
Mini pump pros and cons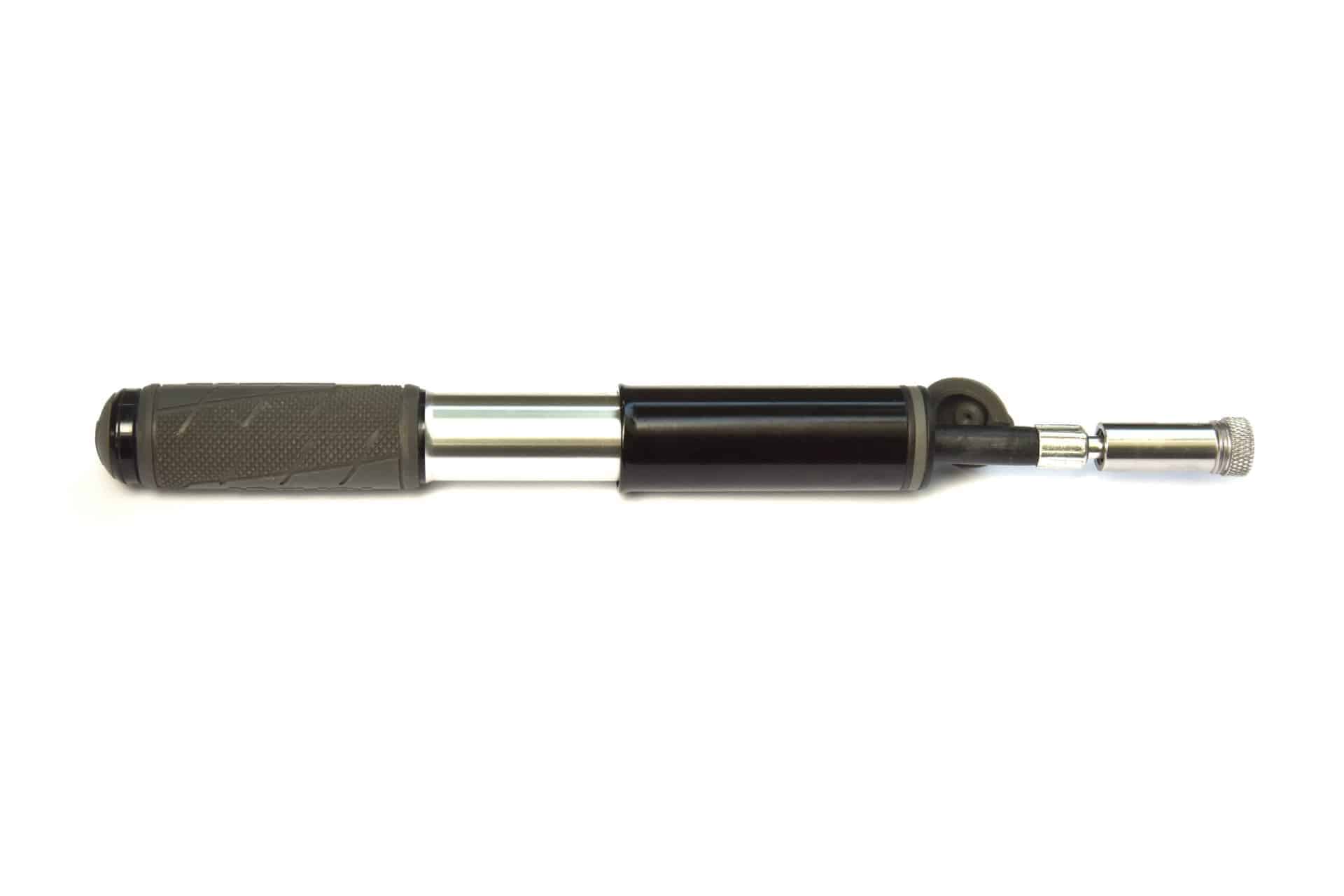 Mini pump pros
Unlimited air. Compared to an air inflator that needs to have the cartridge replaced after use, a mini-pump doesn't run out of air.
Easy to operate. Just like a CO2 inflator, a mini-pump is easy to operate. All you need to do is connect it to the valve stem and pump it using your hands.
One-time expense. Since a manual pump doesn't need to be replaced after every application, you only need to buy it once.
Mini pump cons
They're slow. Unlike an air inflator that refills your tires in a few seconds, a mini-pump will take longer to get the job done.
Low air pressure. Ever tried to reach more than 50 PSI on a manual pump? Good luck trying to do that without straining your arms. Well, can't say the same about CO2 inflators that can easily deliver 120 PSI without a sweat.
Not ideal for tubeless. Most road bikes with tubeless tires require high pressurized air to seat up the bead; something that can't easily be done using a mini-pump due to the low air pressure.
Things to Look for In a Good CO2 Inflator
Is the canister wrapped?
When air is released out of a canister at high pressure, the temperature inside the canister quickly drops to freezing point. If you were holding the canister with your bare hands, your fingers might stick on the metal surface and if you're not careful, it could cause minor injury.
So what should you do about it? First, you should look for canisters that are pre-wrapped with holding fabric or cloth to prevent your hands from getting cold.
Alternatively, if the canister doesn't come with a wrapper, you can wear gloves or cover it with a sock when inflating the tires.
Low Bulk
You don't want your CO2 inflator to take too much space or weight in your pocket or saddlebag; extra weight is a liability especially when riding up and down a hill. For that reason, it would be better to choose a CO2 bike inflator that is as small and lightweight as possible.
Nevertheless, as much as low bulk is important, you should also consider durability.
Is it easy to use?
A CO2 inflator releases gas at high pressure, and if you don't do it right, you may waste an entire canister. That's why you should look for a CO2 inflator and canister that are easy to use with clear instructions.
In most cases, you will only need to attach the inflator head to the inner tube valve hole and twist or press it to inflate the tires.
Has it got a pressure tap?
Talking about the application, you would probably need a CO2 inflator with a pressure tap or on/off valve to control the airflow. It could be useful if you don't need to discharge the full canister; instead, you can use half of the CO2 in the cartridge and save the rest for another day if possible.
Sure, it could be a little bit expensive but you will save money in the long run.
Is it threaded or non-threaded?
Usually, cartridges are available in either threaded or non-threaded designs. A threaded cartridge is designed with lines on the neck like a screw so you could easily attach it to the CO2 inflator head.
On the other hand, a non-threaded cartridge comes with a smooth neck with no helical ridges like you would see on a screw.
Anyway, most CO2 inflators can either support threaded or non-threaded cartridges; sometimes it could be both. A CO2 inflator that can support a threaded cartridge is built with a head to screw the cartridge into place.
But to use a non-threaded cartridge, you require a CO2 inflator with a hollow shell or body to secure the cartridge.
In contrast, CO2 inflators that can hold threaded cartridges are better because they're small and lightweight to save space. Not to mention, most cartridges nowadays are threaded anyway.
However, the best tire inflators such as the Fabric C02 Bicycle Tire Lever Tool Kit can hold both threaded and non-threaded cartridges is another good option.
FAQs CO2 Bike Pumps
Are CO2 Inflators worth it?
Yes. Co2 tire inflators are generally lighter than a normal hand pump, so they're easier to handle. You can also fill your bike tires so much quicker with co2 inflators compared to a hand pump.
Conclusion
In a nutshell, if we were to choose the best CO2 inflator, we would choose PRO BIKE TOOL CO2 Inflator. The fact that it comes with a storage canister and a pressure lever makes it very appealing to us.
However, the other products we've reviewed are also some of the best tire inflators on the market and it all depends on what you want. Like they say; different strokes for different folks.